Taking Submissions: Strange Stories
July 16, 2018

-

July 17, 2018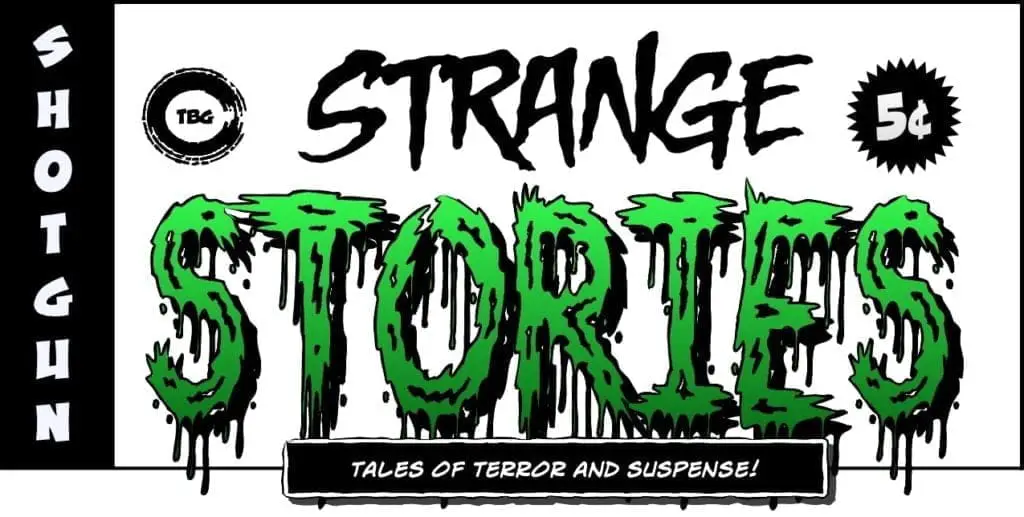 Deadline: July 16th, 2018
Payment: Contributor's Copy
Strange Stories publishes in both print and as a free E-Zine. The original design and purpose of the magazine was to fit it to the needs of new authors, however it has since grown to include all authors, regardless of experience. It's a chance for you to show off your work, enjoy the publishing process, and collect a well-earned publishing credit. The magazine is published on our website as well as issuu.com (here: https://issuu.com/shotgunhorrorclips). And yes, it really is free to read!
Strange Stories is accepting stories of suspense, including Horror, Science Fiction, and Mystery. The underlying theme here is stories that keep the reader in suspense and stories that are strange!
Publish Date(s): 01 July 2018 (or 15 July 18, submission number depending)
Submission Deadline: 16 July 2018 (Subject to change)
If you'd like to submit to Strange Stories, please follow the guidelines below:
Words: Between 500 and 4,500 words, firm.
Payment: Contributor's Copy (one print copy unless otherwise arranged).
Content Restrictions: No rape, torture, erotica, or pure gross-out stories (in other words, we don't want stories about the fierce struggle and conflict involved with the nasty business you completed in the bathroom this morning). No Fantasy or Romance (sorry!). Historical Fiction is okay, but remember that we're not experts here. Tropes and Clichés are welcome as long as they are fun!
Rights: We reserve the right to publish your story and maintain it for free on our website and on issuu.com (or another platform, should issuu become too expensive) – that said, the rights revert to you immediately upon publication. As a curtesy, we ask that you wait six weeks before publishing it elsewhere, but you are not bound by our 'pretty-please' request.
Format: Please See Below!
Email Guidelines:

Include a brief bio (emphasis on brief) in the body of your email
Attach Document – no 'in-the-body' manuscripts
In subject line, write: StrangeStories_Your Name_Story Title_Word Count
One submission at a time – submitting elsewhere at the same time you submit here is acceptable, but let us know you're doing so and if you're published elsewhere, please request that it be pulled from consideration with us (and congrats if that's the case)!
No Reprints
No Poetry (yet)

Send to: strangestoriesmagazine (at) gmail (dot) com
Notes:
Please follow the directions on this page! Submissions sent without regard to the submissions policy will be answered with a 'Whoops, Try Again' email.
We will publish you if you are not 18, but we will require that your parents give us written consent before we do so (so please let us know if you are underage). If you're 15 and publishing psychological horror stories, you parents ought to know about it – and that's only fair, right? They'd be proud of your work. We are.
This publication reserves the right to rescind an offer to publish due to creative differences (this usually happens when an author does not act professionally – rare, but it does happen, so please put your best foot forward, loosen up, and have some fun).
Privacy Policy:
We don't share or sell your information.
We keep the original email you send (with your story attached) in labeled folders, such as: 'accepted' with the date of the publication that your story is appearing in, an 'editing' folder, a 'considering' folder, or a 'rejection' folder (which helps us track who sent what and when – this way, we're not confused and neither are you).
You are not signed up to an email list or a newsletter.
If your work is accepted, you may be contacted in the future for opportunities with DEADLIGHTS, our main magazine, or a Strange Stories anthology, but otherwise you won't be bothered.
Via: Deadlights Horror Fiction.
About the Author
Latest Posts
Stuart Conover is a father, husband, published author, blogger, geek, entrepreneur, horror fanatic, and runs a few websites including Horror Tree!