Taking Submissions: State Of Horror: Tennessee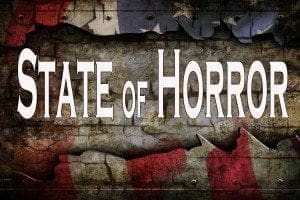 Deadline: November 1, 2014
Payment: Royalty Split and contributor copy
As part of the State of Horror Anthologies, Charon Coin Press under the guidance of editor Jerry E. Benns, will begin accepting stories based in the state of Tennessee. Submitted stories meeting the guidelines below will have the opportunity to be included within the upcoming release of this popular anthology series. Before we get to the guidelines, let's take a look at the featured state for this release.
Tennessee has a unique past which helps to give the state its own flavor. Settlers looking for farmland spread out from the original 13 states to the rugged wilderness of Tennessee following Daniel Boone's path through the Cumberland Gap. From its humble beginnings Tennessee soon became a land of opportunities with a fiercely proud culture. Home to the Tennessee sharpshooters under the command of Andrew Jackson, Jack Daniels spirits, Civil War battle sites, and the Great Smoky Mountains, there are many tales to tell about the state. Whether you enjoy the grassy roots of bluesy Memphis, with its dry rub and saucy BBQ, or the country music capital of Nashville- home to singers and songwriters trying to make it big, Tennessee has a rich culture to entice a good story.
Tennessee is southern-facing but acts as a gateway to the Midwestern region. The state lends itself well to scary stories. You could set your yarn in the misty Smoky Mountains, maybe atop Lookout Mountain. Great place names like Chickamauga or Chattanooga could be prominent in your story. Or you could incorporate the Mississippi River or any number of lakes into a dark tale. Horrors from a farm or the middle of the woods could play a part in your account of the dark side of Tennessee. Maybe you are more inclined to the upscale urban scene? Then Nashville, Knoxville, or Memphis might work as a backdrop.
As with many of the early states, tons of spooky folklore exists to pull from for a story. Whether you are drawn to Native Americans, or ghosts from the Revolutionary and Civil Wars, there are plenty of anecdotes out there for you to develop. Some of the most vicious battles between the Confederacy and the Union took place in and around the Smoky Mountains, which give a particularly eerie feel at certain times of the day. Witchcraft legends were big in Tennessee, as many suspected witches fled from New England to the savage safety of Tennessee. Maybe your story has an Elvis twist or the ghosts of shattered dreams of a would-be country star whose life was cut short. Or what if something was put in the Jack Daniels and a zombie apocalypse started?
There are many creative outlets and possibilities for horror stories set in Tennessee. Between the early pioneer settlers, slaves, would-be stars, and even famous folks, there are any number of groups of people to draw a tale from. Incorporating the rugged and inherently scary geography of the state will only add to the terror of your story. So whether you use real folklore or dream something up yourself, there is much Tennessee can offer as a state of horror.
Tennessee offers a wide spectrum of potential tales. Submission of stories do not require living in the state. The stories do, however, require the ability to weave a tale designed to give readers a little glimpse into the essence of Tennessee. The submitted stories may draw upon any time-period. Stories can also be in any vein of horror.
Submission Guidelines
Charon Coin Press announces open call for submissions for the State of Horror: Tennessee
Word count for this collection is a minimum of 4,000 words not to exceed 9,000 words.
Payment type: Royalty split and contributor copy
Preferred format for submission is: Times New Roman at 12 pt. font. Submission should include: title,author name, author email, and word count of completed story. File type accepted is .doc, .docx, and .rtf. Submission must be made via [email protected]. Subject line for submission email should contain: author's name, State of Horror: Tennessee. Stories will not be accepted through snail mail, by carrier pigeon, or old school fax.
Stories may contain characters and worlds created in other stories published by the author as long as it meets the requirement of the theme of State of Horror: Tennessee. If a submission has been previously released, please include information about the previous released story publication and the release date. Stories may not be published in any other form for twelve (12) months prior to or after release of the State of Horror: Tennessee. NO multiple submissions. NO simultaneous submissions.
Charon Coin Press understands that sexual content and violence may be included in the stories. However, before inclusion of this type of content, please make sure that it is relevant to the story's progression.
Submission is open between August 1, 2014 and November 1, 2014
The release of each book will have a promotional campaign. Authors who have had their submissions selected will be requested to participate in the marketing of the book in which they are included.
The State of Horror Anthologies are a royalty-only payment schedule plus a contributor paperback copy. The royalties are 50% of the sales per eBook, print book, and audio book divided between the authors, paid every six months. Each book will contain 13 stories.
Charon Coin Press will make every effort to announce selected stories within six (6) weeks of the close date listed above. We look forward to reading your submission.
Via: Charon Coin Press.
About the Author
Latest Posts
Stuart Conover is a father, husband, published author, blogger, geek, entrepreneur, horror fanatic, and runs a few websites including Horror Tree!