Taking Submissions: Slice of Paradise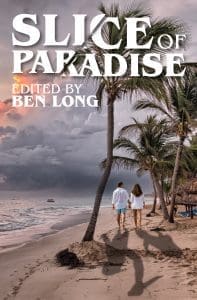 Deadline: October 1st, 2021
Payment: $0.01 per word for new stories and/or $25 for reprints PLUS $5 for complimentary flash fiction.
Theme: Beach Vacation Horror
Please read carefully. Submissions that don't meet the guidelines may be automatically rejected.
Submissions will be accepted until October 1st, 2021. Please submit to [email protected], ensuring 'Slice of Paradise' is in the subject line.
What we are looking for:
Horrifying short stories that occur on a tropical beach paradise. We also encourage writers to have good representation of POC, LGBTQ+, and strong female characters.
What we are NOT looking for:
Please, do not submit stories that do not take place on a tropical beach. Submissions cannot contain graphic rape scenes. Please ensure any scenes of a sexual nature are necessary and non-exploitative.
Submissions must be between 2,000 and 10,000 words.
Complimentary flash fiction submissions must be between 1,000 and 2,000 words. Selected flash fiction will be used in our YouTube series, Bite-Sized Terror as well as a free sampler to entice readers.
Title, submitter's name, pen name (if different), story word count, and author email address must be centered at the top of your submission.
Submissions must be written in 12 pt. Times New Roman and double spaced.
We do not require exclusivity. You hold copyright, licensing us just for this publication.
If your story is a reprint, please include its original publication details in your submission email.
Simultaneous submissions are accepted, but you must have the right to license your story in an anthology. Notify us by email at [email protected] if you need to withdraw your submission.
The deadline for submissions is October 1st, 2021.
About the Author
Latest Posts
Stuart Conover is a father, husband, published author, blogger, geek, entrepreneur, horror fanatic, and runs a few websites including Horror Tree!