Taking Submissions: Shadowed Realms: The 2022 Indie Dark Fiction Anthology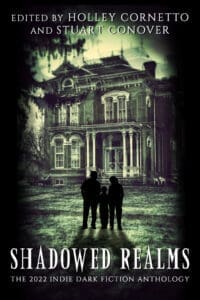 Deadline: May 31st, 2023
Payment: 1 cent per word
Theme: The best 1,000-9,000 word dark fiction published in semipro and token paying markets in 2022.
Horror Tree is pleased to announce the first Shadowed Realms: The 2022 Indie Dark Fiction Anthology. 
Here at Horror Tree, we believe there is excellent fiction being published at semipro and token-paying publications, and we'd like to celebrate and highlight these authors and their stories. This anthology will be a collection of reprints, featuring the best dark fiction published in semipro and token-paying markets in 2022.
What we're looking for:
Dark-leaning speculative fiction that was published for semipro or token payment in 2022. In order to submit to us, you must either have, or be able to retain non-exclusive rights to the story. Please do not submit stories that you do not have the rights to; we will not be able to publish them. 
Stories between 1,000 – 8,000 words. 
Stories need not be horror but should be dark in tone.
Only stories published in semipro or token-paying markets (less than 5 cents/word USD). We are specifically looking to highlight semipro authors and publications. 
What we're not looking for:
Stories published at professional paying markets. (There are other anthologies who do this, and do it well!)

Stories you do not have the rights to.

Self-published stories.

Drabbles, novelettes, or novellas.

Hate speech, including racist, misogynistic, homophobic (or any other "phobic") content

Fan Fiction

Heavy use of vulgar language

Graphic depictions of torture, sexual violence, and gore for gore's sake

Pedophilia

Anything inappropriate with animals
Submission Guidelines:
We will only consider material published in 2022. 
Authors: Please send the story formatted in Shunn Modern using our submission form. We prefer word docs where possible. If not, then we will accept PDFs. 
No multiple submissions, so please send us your best!
Publishers: If you would like us to consider a story within an anthology or magazine issue, please use our submission form. If you'd prefer to send a physical copy, please email us [email protected] to inquire where to send it.
If sending in a magazine issue or anthology, please submit as a PDF, docX, or epub file. 
Compensation: 1 cent per word USD to be paid via PayPal to the author.
Please only send stories that fit within the 1000 – 8000 limit. Anything outside of these ranges will be deleted unread.
Include a brief cover letter stating when and where the story was originally published (unless submitting an entire issue/anthology). Please provide links to the original publication where applicable. 
What we are asking for:
Non-exclusive rights to include your story in our anthology. Copyright of the story will remain with the author. 
Submission dates: March 24, 2023 – May 31, 2023
We aim to respond within 90 days of the call closing. If you do not hear back from us within this time, please send a query. 
About the Author
Latest Posts
Stuart Conover is a father, husband, published author, blogger, geek, entrepreneur, horror fanatic, and runs a few websites including Horror Tree!