Taking Submissions: Reader Beware Issue #3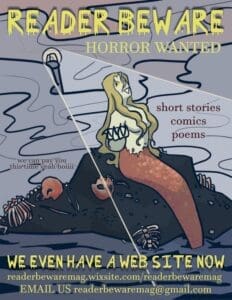 Deadline: May 31st, 2023
Payment: Short Stories: 1 cent per word, Poetry: 5 cents per line, Comics: $5 a page
Theme: Horror comics, poems, and short stories with the theme of pulp horror
Submissions for our 3rd issue are open from
April 15th to May 31st, 2023!
​
At Reader Beware, we want to see pulp horror of all kinds – think Friday the Thirteenth, Psycho Goreman, and Glorious. Think Junji Ito, Grady Hendrix, and Eric LaRocca. We want your creepy gorefests!  Don't be afraid to get explicit with it, just don't send us anything too mean-spirited. Gore is great, peril and torment are great–continuing the horror tradition of fetishistically brutalizing women is not.
Stories
We accept short stories of up to 5000 words at a rate of one cent per word.
Poetry
We accept up to three pages of poetry per author at a rate of five cents per line.
Comics
We accept up to ten pages of comics at a rate of five dollars per page.
Send Us Your Work
Send us your story/poem/comic as a file attachment (.docx for stories and poems, png/pdf for comics) to [email protected]. In the body of the email, write the name you wish to be credited as and any content warnings you deem necessary.
Via: Reader Beware.
About the Author
Latest Posts
Stuart Conover is a father, husband, published author, blogger, geek, entrepreneur, horror fanatic, and runs a few websites including Horror Tree!