Taking Submissions: Odd-isms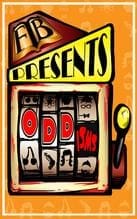 Deadline: November 21, 2015
Payment: Contributors copy and royalties to be paid quarterly: 50% of the proceeds divided evenly between all authors
FTB Press proudly presents our second call for submissions. We are asking new, emerging and established writers to create something from nothing and the FILL THE BLANK page with wonderful words. We hope you can take a simple idea and turn it into a captivating and engaging story for the reader. The simple idea we are offering is ODD- ISMs. The question is… what exactly is an ODD-ISM? –ISM can be an action noun, a way of thinking, belief or ideology. Maybe your character has seen every Bill Murray movie and has adopted a way of life called Murrayism, this is the type of oddness we are looking for. What we are not looking for is Feudalism, Institutionalism or Barbarism. What might work is Fantasticism, Idiotism or Barbarellaism. Take any random word and add –ism to the end, it might work. The stranger, the more outlandish the -ISM, the better. A panel of editors using a specific set of criteria will read all stories selected for publication.
What we are looking for in submissions:
1. 4000 words or less.
2. MS Word file submitted with author's last name, title, and word count at the top of the page (not a header).
3. We are not picky with font style as long as it is easy to read.
4. Please do not double space.
5. Please title submitted files as lastname.titleofstory.oddism
6. Author's full name and mailing address in the email with a brief 50-word bio.
7. Multiple submissions are ok, although we will only publish one per author and they must be submitted separately.
8. Simultaneous submissions are ok. We only ask you inform us if your story is chosen elsewhere.
9. The story doesn't need to be a specific genre, just be sure the story is about realish people in the realish world, dealing with an Odd -ism. Imagine the story as a dark, gritty, edgy and controversial Rated R movie.
10. Send submissions to fiction.submissi[email protected] with Last Name/Title/ODDISM in the subject line.
What we are not looking for in submissions:
1. Erotica, fan fiction, poetry, or Young Adult.
2. Reprints.All authors will receive a contributor's copy of the completed anthology. Royalties will be paid quarterly. The amount will be 50% of the proceeds divided evenly between all authors. Submissions will be open until November 21, 2015 at midnight Arizona time, unless we FILL THE BOOK prior. If you have any questions please email [email protected]
Via: FTB Press.
About the Author
Latest Posts
Stuart Conover is a father, husband, published author, blogger, geek, entrepreneur, horror fanatic, and runs a few websites including Horror Tree!