Taking Submissions: Neptune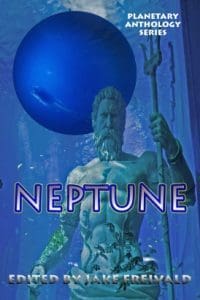 Deadline: July 6th, 2020
Payment: Split of 20% of royalties between the authors
Theme: Short stories revolving around the planet or God Neptune
Note: Reprints accepted
Starting in December 2019, Tuscany Bay Books will be releasing an 11-book anthology series: Planetary Anthology Series.
First up is Pluto. You can pre-order the e-book edition now. On Dec. 5th you can get it for free if you are a KU subscriber on Amazon. Shortly after Dec. 5th you should be able to order the paperback edition as well.
Next up is Luna and then Uranus. Mercury, Venus, Earth, Mars, Jupiter, Neptune, Sol and Saturn should then follow.
NOTE: Submissions are now open again for Neptune and Saturn. Payment is a split of 20% of royalties between the authors. For more info on what is required and how to submit, see this post: ANTHOLOGY SUBMISSION CALL  
Lord of the Sea. Ruler of Pisces. Exalted in Cancer.
Mythologically, Neptune is associated with the sea, navigation, springs, horses, and racing. Astrologically, Neptune associated with idealism, dreams, dissolution, artistry, fluidity, illusion, and glamor. Astronomically, it is the beautiful sea-blue eighth planet.
All these together tie into what we think of when we hear "Neptune."
Stories working with the genre conventions of Fantasy, Science Fiction, Weird/Pulp, or anywhere between will be considered. [Jake adds: That's pretty broad, but if you're not sure, feel free to pitch an idea.]
• Word count is 1,000 – 10,000
• Poems will be accepted
• Reprints will be accepted
• Stories may be connected to Neptune astronomically, mythologically, or astrologically, as you prefer
Please submit to the editor, Jake Freivald, directly at
Subject line should appear as follows: Neptune Submission/Story Title/Author SurnameTentative submissions close date: You can submit until it's no longer July 6, 2020 or earlier anywhere in the world.
Via: Tuscany Bay Books.
About the Author
Latest Posts
Stuart Conover is a father, husband, published author, blogger, geek, entrepreneur, horror fanatic, and runs a few websites including Horror Tree!