Taking Submissions: Nafallen University – College Catalog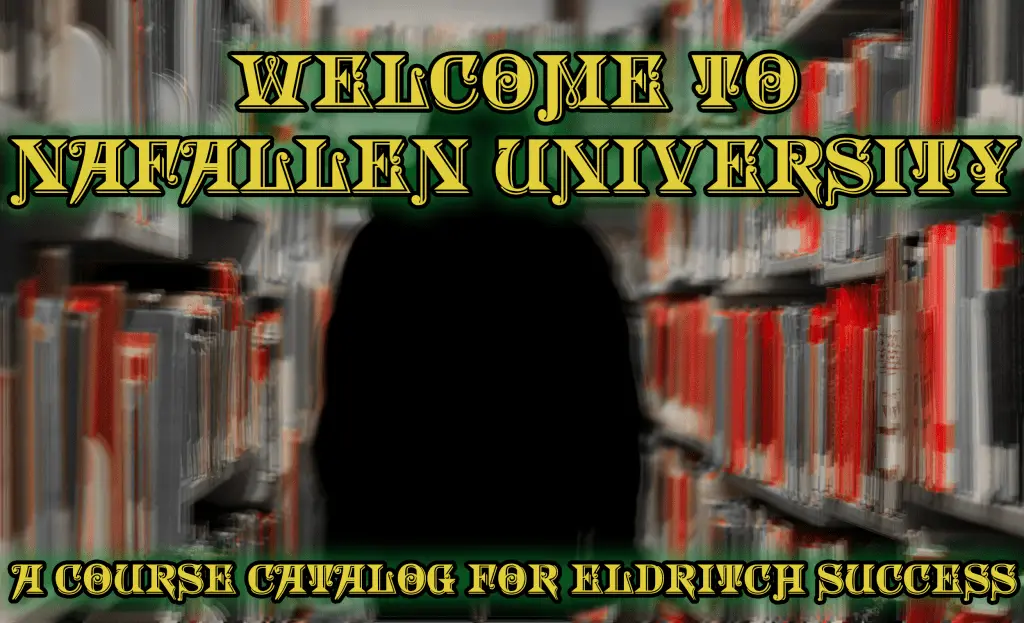 Deadline: August 31st, 2021
Payment: .01p/w for each course accepted
Theme: A course catalog for a strange and horrible university in North Texas, (think Miskatonic of the south).
Welcome to Nafallen University, located outside beautiful and destitute Crisp Texas, we offer an advanced education in butchery, beating CSI forensics, the blackest of rituals, swamp husbandry, torture, non-Euclidian mathematics, law, religious studies, sacrificial rites, and of course, business.
Located near a Highway and a small Texas town, Nafallen is the perfect place to find an abundance of test subjects and sacrifices to aid in students' academic studies. The isolated nature of North Texas also allows for those studies to remain undiscovered by those that would stand in the way of progress.

---
This is a call for a new anthology chapbook from John Baltisberger and Matthew Henshaw. The conceit is that the chapbook is a course catalog for a strange and horrible university in North Texas, (think Miskatonic of the south). Submissions should follow the example below, with a department heading followed by course descriptions. Each description can be anywhere from 1-200 words long. They may be written to be funny, bizarre, or horrifying. We will take as many courses from submissions as we feel are a good fit.
Contributors will be listed as Faculty,
---
AGRICULTURE
AGR 161: Fungal Studies I
Prerequisites: None (AGR 161 recommended prior or concurrent)
A 12 week course of study of Fungi on this planet, a history of cultivation and uses throughout time both past and future.
AGR 181: Chlorophyllosophy
Prerequisite: Permission from the instructor pending written application
In this course, students will investigate the nature of chlorophyll-its origins and its adversarial relationship with the fungal kingdom. By the end of the course, students can expect to have the knowledge to combat the lie that chlorophyll is necessary for life on this planet (or this universe), and in fact, is a detriment to ultimate existence.
PHYSICAL EDUCATION
PE 301: Forcing Adrenal Reactions
(prerequisite: PE201, Must have current medical approval)
This course builds on the tantric and meditative practices that allow one to tap into their human and abhuman capabilities. Perfect for seemingly impossible acts of violence, strength, and speed. Students will explore pushing themselves to the limit of biology and discover new thresholds of pain.
---
EMAIL SUBMISSIONS TO 

[email protected]

, using the Subject: COURSE CATALOG SUBMISSION
Currently Open – Will Close When We Have Enough Stories
Rape in a positive light never acceptable.
Racism/Sexism/Bigotry of any form will never be accepted here.
Double-check your grammar and spelling.
Please submit all stories in DOC/RTF format.
We retain exclusive publishing rights for 12 months.
This pays .01p/w for each course we accept.

Contributors may buy copies at cost.

Deadline is 8/31/21 or when we fill the catalog.
Via: Madness Heart Press.
About the Author
Latest Posts
Stuart Conover is a father, husband, published author, blogger, geek, entrepreneur, horror fanatic, and runs a few websites including Horror Tree!