Taking Submissions: Mystic Moon A Collection of Midnight Magick & Dark Fantasy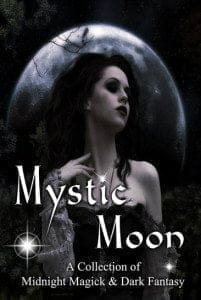 Deadline: November 20th 2014
Payment: All royalties from anthologies will be split evenly between all authors.
Release Dec. 31st 2014
Deadline by Nov. 20th 2014
Mystic Moon is collection of short stories and poetry. Think warlocks, witches, gypsies, fae, dragons, demons, higher beings. This is a dark fantasy collection. Something we have never done.
Blurb
Mystic Moon will open your world to old magick and the darkest of fantasy. In the time of warlocks, witches, and gypsies, all fighting for power there were once realms of the Fae and Dragons, and lush beautiful lands until dark creatures destroyed all they worshiped. Demons began roaming the earth, draining the purest of creatures, watching as higher beings fell from the sky.
Journey into the night of midnight magick where mystical beings ruled the moonlight.
Guidelines
Short Stories and Poetry/Prose accepted
Min Word Count: 800 Words (if it is a bit short talk with me)
Max Word Count: 7,000 Words (if you go over talk with me)
Poetry does not have a word count
Submit to [email protected]
Word doc
12-14pt.
Georgia or Times New Roman
Editing will be provided unless author prefers their own editor
Via: Phoenix Fire Publishing.
About the Author
Latest Posts
Stuart Conover is a father, husband, published author, blogger, geek, entrepreneur, horror fanatic, and runs a few websites including Horror Tree!