Taking Submissions: Madame Gray's Creep Show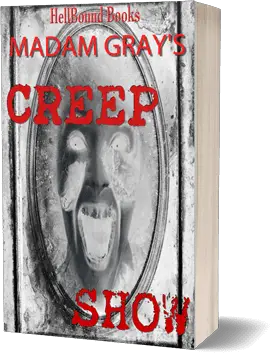 Deadline: September 30th, 2020
Payment: $5
Theme: Well-written, spine-tingling tales of horror infused with black humor
The ultimate creep fest! Compiled and edited by Gerri R. Gray (Graveyard Girls, Blood & Blasphemy), and published by Hellbound Books Publishing, this anthology is looking for well-written, spine-tingling tales of horror infused with black humor (gallows humor).
We are open to all categories of horror: gore, psychological, killers, monsters, and occult/paranormal. Twisted and tacky is a plus.
Undiscovered writers, as well as established voices, are welcome to submit their work. If you can creep us out and give us a laugh at the same time, we want to hear from you!
Contributors are invited to send a bio (up to 250 words) with their submission. Multiple and simultaneous submissions are okay.
PLEASE read and adhere to our submission guidelines… 
* Word format saved in .doc, or .docx
* 12 pt times new roman
* Double spaced
* Absolutely NO extra lines between paragraphs!
* 2.5K – 8K word count
* Write 'MADAME GRAY' along with your name and story title in the header of your email
*The body of your submission email will be considered the cover letter.
* The submission documents are to be separated and Word (.doc or .docx) documents are to be attached to your submission email.
To submit, email your polished story to [email protected]
– Make sure that you check your mss for grammar and punctuation, use our guidelines to help you:
DOWNLOAD YOUR HBB GUIDE TO GRAMMAR HERE (PDF)
Deadline: September 30th, 2020
NO REPRINTS – ORIGINAL UNPUBLISHED WORKS ONLY
Payment: $5.00 for First Rights
Capped at 120K words in total.
Via: HellBound Books Publishing.
About the Author
Latest Posts
Stuart Conover is a father, husband, published author, blogger, geek, entrepreneur, horror fanatic, and runs a few websites including Horror Tree!