Taking Submissions: Lurking in The Dark – HorrorTube Anthology Vol. 3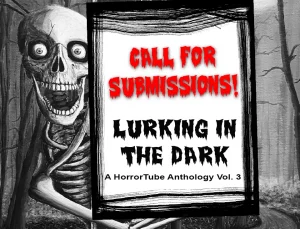 Deadline: June 1st, 2022
Payment: $10 and a contributor's copy – proceeds will be donated to the literacy charity First Book
Theme: "Monsters" from authors with active BookTube or AuthorTube channels
Note: Reprints Welcome
Note: Apologies for the short window, stumbled across this one recently as we didn't get an e-mail for this volume
Seeking submissions from authors with active BookTube or AuthorTube channels for the next HorrorTube Anthology.
Again, we are looking for a diverse group of authors with active BookTube and/or AuthorTube channels (no channel too small) so please do not hesitate to submit.
Genre: Classic Horror! *Please, no horror erotica, paranormal romance, or romantic suspense.
Theme: MONSTERS! Monsters can be human or inhuman, but for this anthology, we're seeking horror stories of a gorier nature, so don't hold back! But please, no graphic depictions of sexual assault, child or animal abuse. Supernatural stories depicting unique monsters are encouraged. Contact Regina at regi[email protected] with any questions. *See FAQs below.
Length: 1,000 – 5,000 words
Deadline: June 1, 2022
Details: Please submit your story as a separate attachment (word doc) along with a short cover letter including a clean link to your YouTube channel to [email protected]. Please use the standard submission format. For guidance see https://www.shunn.net/format/story.html.
Please submit only your best, most polished work. Reprints are okay. The terms include the nonexclusive right to display, copy, publish, distribute, transmit and sell digital and print reproductions of your story worldwide.
English language only.
Payment for accepted submissions: $10 honorarium, print and digital copy. All proceeds will be donated to the literacy charity First Book.
Deadline: June 1, 2022
Release Date: October 2022
Cover Design: Cameron Roubique
Edited by Regina Saint Claire with a  foreword by Steve Donoghue.
Frequently Asked Questions
What is considered an "active" booktube/authortube channel? 
Your channel should have recent uploads (at least once a month) and include bookish and/or writerly content.
Why is my story rejected?
The biggest reason for rejection is a poorly edited story. Another reason for rejection is if your story does not fit the theme. Also, poorly formatted stories annoy editors so please follow the directions for submissions including pasting a clean link to your YouTube channel in your cover letter.
Are psychological horror stories okay?
Psychological stories are great, but for this anthology (slated for a spooky-season release), we're looking for gory, "fun" horror stories with good suspense and satisfying "pay-offs." Think R.L. Stine with more gore!
Are reprints okay?
Yes. But please do not break any contracts with other publishers.
What does "non-exclusive rights" mean?
It means you're free to publish your story on other publications and platforms.
Via: R. Saint Claire.
About the Author
Latest Posts
Stuart Conover is a father, husband, published author, blogger, geek, entrepreneur, horror fanatic, and runs a few websites including Horror Tree!