Taking Submissions: Lizzie's Bedtime Stories Valentines Anthology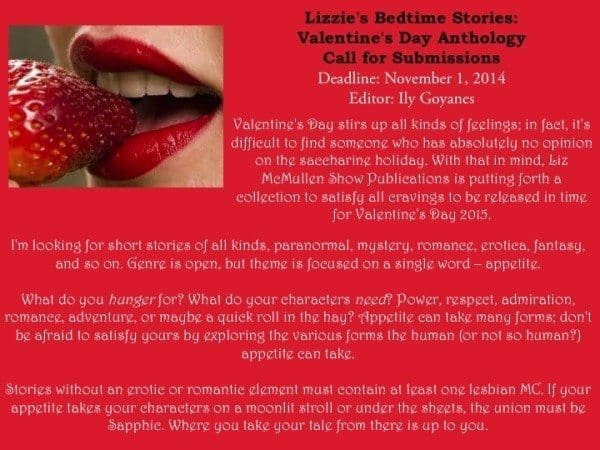 Deadline: November 1st, 2014
Payment: $30 and two copies of the published book upon publication
Payment & Rights: $30 and two copies of the published book upon publication. Contributors retain the rights to their work.
Editor: Ily Goyanes
Publisher: Liz McMullen Show Publications
Guidelines:
Previously unpublished work only
Desired length is 3,000 – 4,000 words (exceptions made for exceptional work)
Multiple submissions okay, simultaneous submissions not okay
Use a standard font such as Times New Roman – no funny business
Size does matter – 12 pt. is perfect
Double-space, por favor
Include your contact information in both the document and body of the email
If you're on the down low, include your pseudonym in your contact information
Send your submission to [email protected] as an attachment in Word format (.doc). In the subject line, include 'appetite antho,' the title of your story, and your last name. Subject line should look like this: Appetite antho/Hungry Like a Wolf/Gonzalez. If you have any questions, please direct them towards the same email address.
Hard deadline is November 1, 2014, but the sooner you submit, the better you'll feel.
If you have not received a response by January 1, please feel free to query me at the email address above.
Editor: Ily Goyanes is a widely-published and award-winning author, editor, and journalist. Girls Who Score: Hot Lesbian Erotica, a Lambda Literary Award finalist, was Goyanes' first full-length anthology and won a Golden Crown Literary Society Award in 2013. She has also served as a judge for the Lambda Literary Awards and as a mentor for the GCLS writers' program. Tweet her @realily.
About the Author
Latest Posts
Stuart Conover is a father, husband, published author, blogger, geek, entrepreneur, horror fanatic, and runs a few websites including Horror Tree!