Taking Submissions: Little Girl Lost: Thirteen Tales of Youth Disrupted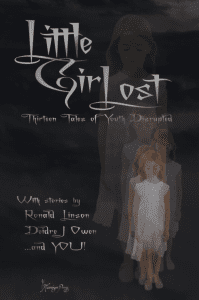 Deadline: August 31st, 2019
Payment: trying for 0.02/word (see below) and a contributor's copy
Anthologists: Ronald Linson & Deidre J Owen
Publication format: print (POD), digital
Word count for submissions: 2,000-7,500 (with exception; see below)
Compensation: authors will receive a free contributor copy (print and digital) as well as a modest monetary compensation; details below.
LITTLE GIRL LOST: THIRTEEN TALES OF YOUTH DISRUPTED will be an
anthology of original stories centering around the idea of the lives of young girls being disrupted in some way. It could be through vanishing mysteriously, experiencing a life-altering event, or… ? We are seeking well-written, imaginative tales that explore this idea to its fullest. Use your own interpretation as to the meaning of 'lost.' Surprise us!
Submissions period opens APRIL 8th, 2019 and will close AUGUST 31st, 2019 or when the anthology is filled. Submissions received outside of this period will be deleted unread.
We are seeking original, previously unpublished stories of the highest quality between 2,000 and 7,500 words. We are willing to look at stories up to (but not exceeding) 10,000 words, but they are less likely to be accepted. There are a few slots open for reprints, however (see "Reprints" below).
Genre: Your story can be in any genre so long as it fits the theme of the anthology, with the firm exception of erotica.
Subjects we WILL NOT accept include (but are not limited to):
Erotica
Pedophilia
Depictions of rape
Graphic descriptions of sexual activity involving persons under the age of eighteen (18)
Gratuitous or excessive violence or gore
Racism, bigotry, or slander towards anyone
Fan Fiction
(If you are unsure whether your story crosses any lines, please feel free to submit it anyway. Decisions will be made on a case by case basis.)
Submitting: Please send your submission to [email protected] as an attachment. The subject line must read: "LGL [title of story], [your name]"
In the body of the email, please provide a brief cover letter which must include your name, pen name (if you use one), the title of your story, the word count, and a short bio.
Stories should be carefully edited and polished. Excessive amounts of typos and grammatical errors will count against you.
Submissions must be in English.
No multiple or simultaneous submissions.
Reprints: We have a few slots available for reprints. If you have a story that you feel would be a good fit for LITTLE GIRL LOST that was previously published, please submit it. Simply note that it is a reprint in your cover letter, tell us when and where it was previously published, and confirm that you retain all rights to the work.
Format: Manuscripts should be sent as an email attachment. Please submit your work in .doc, .docx, or .rtf format, 12 point font, Times New Roman or Garamond, and double spaced. Please put your name, contact information, and the word count at the top of the first page. DO NOT paste your story into the body of the email; this will result in an immediate rejection.
Publication: Print on Demand and ebook formats will be published via KDP (including expanded distribution) and Smashwords. Kindle Select will not be enabled to allow for multi-platform publication. Our goal for publication is mid-October 2019.
Response time: We will respond to all submissions within three to four weeks of receipt. If you do not receive a response after six weeks, please send your inquiry to [email protected] with "QUERY" and your story title in the subject line.
(If you do not receive acknowledgement of your submission within 48 hours, please check your junk mail folder. If you still have not received confirmation of receipt, please feel free to reach out to us at the email above or through our Contact page.)
Compensation: Authors will receive free contributor copies (one print and one digital) and a payment as yet to be determined. Monetary compensation will be dependent upon the outcome of the crowdfunding campaign associated with the project. Our tentative crowdfunding goal is to be able to pay our authors $0.02/word (two cents per word, USD). If we exceed our crowdfunding goals, this rate will increase accordingly. Payment will be issued upon publication.
Our tentative goal for the crowdfunding campaign is currently $1,500 (USD). This may increase if there is sufficient public interest in the project prior to the launch of the campaign. Mannison Press will allocate 80% of the crowdfunding proceeds for author compensation. The remaining 20% will go toward fulfilling supporter rewards and to cover production costs. Updates will be posted to keep our prospective contributors informed.
As the editors of Little Girl Lost, Ronald Linson and Deidre J Owen will each be contributing a story of their own to the anthology. However, they will not be claiming any author compensation from the proceeds of the crowdfunding campaign.
Rights and exclusivity: Authors must hold all rights to their work at the time of submission. Mannison Press will ask for worldwide first print and first digital rights, exclusive for six months; rights shall be reverted back to the author six months after initial publication. Mannison Press then retains continuing rights to print the anthology, but authors are welcome to publish their story in other markets moving forward (with the understanding that the anthology may still be in print with Mannison Press).
If you have any questions, please feel free to contact us at[email protected].
Click HERE to watch the trailer on YouTube.
Via: Mannison Press.
About the Author
Latest Posts
Stuart Conover is a father, husband, published author, blogger, geek, entrepreneur, horror fanatic, and runs a few websites including Horror Tree!