Taking Submissions: Les Petites Morts (Early Listing)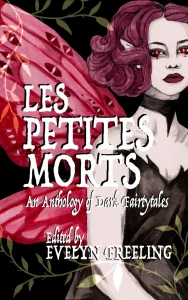 Submission Window: July 1st – August 30th, 2022
Payment: 0.06 USD per word and a contributor's copy
Theme: Erotic Horror Inspired by Fairy Tales, Mythology & Folklore
SUBMISSIONS OPEN JULY 1ST for this major new anthology edited by Evelyn Freeling. This will be our first pro-paying anthology, to be funded by a Kickstarter campaign in June 2022. We anticipate around a 50/50 split between invited authors and those chosen via our submission call.
We're looking for erotic horror stories inspired by fairy tales, mythologies, and folklore from around the world. Retellings about sexuality, desire, and fantasies that take dark turns. We love a good spin on the classics, but want to see fairy tales, mythologies, and folklore from outside the Western Euro catalog as well.
We want all of the hallmarks of a great horror story: rich characters, dynamic settings, tension, pacing, with well written erotic scenes that make our hearts race, then rip the rug out and terrify and disturb us (though we ask you to please refrain from submitting rape fantasies). The erotic elements don't need to be the source of horror and there may be elements of adjacent genres, but the story should be firmly grounded in horror.
We want the unexpected. This is an inclusive anthology: M-F, F-F, M-M, threesomes, orgies, etc. Bring your kinks.
A word on consent: As mentioned above, please do not submit rape fantasies. We all know rape is horrifying. Erotic scenes should feature consenting adults only. Absolutely no children. Consent in the stories does not need to be enthusiastic, but there needs to be at the very least implied consent.
Length: 1k-5k words (hard limit, ideal is anything from 2k-4k).
Payment: 0.06 USD per word (via PayPal) and a paperback contributor's copy.
Publication: E-book and print.
Deadline: 30th August 2022.
Rights: We request first worldwide and electronic rights for 12 months after the date of publication, after which rights revert to the author. All copyright remains with the author.
Stories should be submitted in .doc/. docx format to this email: [email protected]. Please use Shunn Manscript formatting as per our usual submission guidelines, but submissions will be read blind so please omit any identifying information other than the title from the document itself. In your email subject line please put SUBMISSION followed by your story title. In the email itself, a short cover note including your story's title and word count is sufficient.
Via: Ghost Orchid Press.
About the Author
Latest Posts
Stuart Conover is a father, husband, published author, blogger, geek, entrepreneur, horror fanatic, and runs a few websites including Horror Tree!