Taking Submissions: Lawless Lands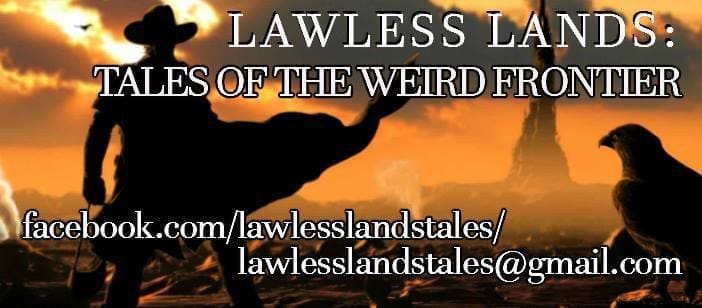 Deadline: September 30, 2016
Payment: 4 cents and 2 contributor's copies
Lawless Lands: Tales from the Weird Frontier is an anthology embodying the frontier spirit of the American West, but with a weird twist. Gunslingers with laser pistols, cattle drives through the galaxy, cursed nuggets of gold, and talking jack rabbits that grant wishes. Fantasy, SF, or horror, if it's weird, we want to see it.
The book will be funded with a Kickstarter campaign in December 2016. We will pay each author a minimum of 4 cents a word, with the possibility of more if the Kickstarter is successful, and two physical copies.
Editors: Emily Leverett, Margaret McGraw, and Misty Massey.
Anchor authors: David B. Coe, Laura Anne Gilman, Barb Hendee, Faith Hunter, Nicole Givens Kurtz, Margaret McGraw, Seanan McGuire, Devon Monk, and Edmund Schubert (This Giant Leap).
Word count: 3000 to 7000 words. We might be willing to entertain a story longer than the max, but please ask before submitting, and it had better be a pretty incredible story.
Genre: Fantasy, SF, or horror. No erotica. 
Format: Word documents (.doc; .docx) only; 12 point Times New Roman, double-spaced. Please include your name and email address at the beginning of your word document as it will get separated from your original email.
Subject Line for Email: LawlessLands – (Your Name) – (Name of Story)
Cover Letter: We're happy to see a cover email explaining your previous publications, but try to keep it short and sweet. And don't stress if you have no prior publication experience – we love discovering stars!
Submission deadline: September 30, 2016
Via: Falstaff Books.
About the Author
Latest Posts
Stuart Conover is a father, husband, published author, blogger, geek, entrepreneur, horror fanatic, and runs a few websites including Horror Tree!