Taking Submissions: It Calls From the Veil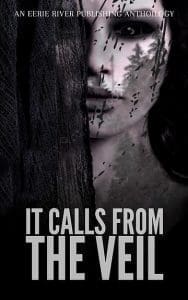 Deadline: October 31st, 2021
Payment: .01 per word after approved edits up to $60 CAD, $15 CAD for reprints
Theme: What can give you nightmares (see below for expanded description)
"It Calls From the Veil"
Submission Open: September 1, 2021
Submission Close:  October 31, 2021
Publishing timeline:  2022
HORROR – May have elements of Dark Fantasy, Dark Fiction and Cosmic horror. But must have the intention to scare the readers.
Theme: Give me your nightmares. Ghosts, demon possessions, poltergeist, haunted houses, séances gone wrong. These stories should take place in our reality with a supernatural twist. Think evil entities, movies like Sinister, Poltergeist, Blair Witch Project, Insidious, Amityville Horror and Marianne (Netflix).
We are looking for horror. Give us elements of surprise, twists and turns, scare me with your words and your imagery. I am fine with gore, but it should not take over the plot.
Give me your nightmares. These stories should take place in our reality with a supernatural twist. Think evil entities in our reality (not a fantasy world).
Word count: 2000 – 6000 Some wiggle room allowed above the limit, not below.
Compensation: .01 per word after approved edits up to $60 CAD for first rights original stories
$15.00 for reprints
Formatting guidelines: Please read carefully
We are reading these stories blind, so please refrain from adding your name or any identifying information on the story itself. All fiction manuscripts should be in a standard manuscript format with 12 pt Times New Roman, 1.5 line spacing, set auto-indent new paragraphs. Please make sure the title is on the first page, but no other identifying details in the manuscript itself.
Title your manuscript with the story title -"(the actual story title) – VEIL" – again no identifying names on the title of the document.
The form you fill out will have your name and bio, along with the title so we can identify your story once it has been read.
How to submit: Please submit using the form found on the website.
Multiple Submission: Yes – We will be happy to read up to two stories per author.
However, we will publish a max of one story per author. Please send each story in a separate form.
Reprints: Yes we are accepting a small number of reprints.
Simultaneous submissions: Yes –  Please let us know when and if it has been accepted elsewhere.
Things that are a hard pass: any animal erotica and all forms of rape
About the Author
Latest Posts
Stuart Conover is a father, husband, published author, blogger, geek, entrepreneur, horror fanatic, and runs a few websites including Horror Tree!