Taking Submissions: Into the Forest (a women-in-horror anthology)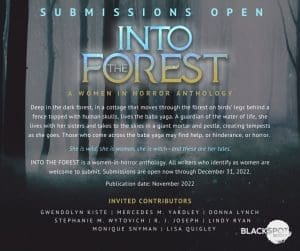 Deadline: December 31, 2021
Payment: 6 cents a word (USD)
Theme: Stories inspired by and featuring the BABA YAGA.
Note: Open to writers who identify as women
Deep in the dark forest, in a cottage that moves through the forest on birds' legs behind a fence topped with human skulls, lives the baba yaga. A guardian of the water of life, she lives with her sisters and takes to the skies in a giant mortar and pestle, creating tempests as she goes. Those who come across the baba yaga may find help, or hinderance, or horror. She is wild, she is woman, she is witch—and these are her tales.
We are looking for stories inspired by and featuring the BABA YAGA.
INTO THE FOREST: Tales of the Baba Yaga is a women-in-horror anthology. All writers who identify as women are welcome to submit.

GUIDELINES:
Payment: 6 cents a word (USD)
Length: 1000 to 5000 words
Submission Period: September 28, 2021 to December 31, 2021
Expected Release Date: November 2022 (traditional trade)
No reprints, multiple subs or simultaneous subs
Use classic Shunn formatting.
​​
Full list of invited contributors:
– Gwendolyn Kiste
– Stephanie M. Wytovich
– Donna Lynch
– R. J. Joseph
– Lindy Ryan
– Mercedes M. Yardley
– Monique Snyman
– Lisa Quigley
Via: Black Spot Books.
About the Author
Latest Posts
Stuart Conover is a father, husband, published author, blogger, geek, entrepreneur, horror fanatic, and runs a few websites including Horror Tree!