Taking Submissions: In Poe's Shadow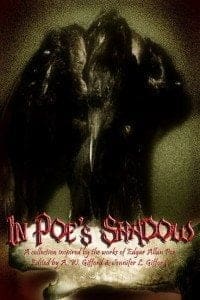 In Poe's Shadow
Deadline: July 31st
Payment: 1 cent a word US, plus one copy
Dark Opus Press is proud to present In Poe's Shadow, our first annual anthology. We are huge fans of Edgar Allan Poe's work and feel it only fitting that he is the inspiration for this anthology. That being said, we are looking for modern tales spun off of any of Poe's stories. We're sorry, but for the concept we're going for here we are not accepting poetry, reprints or artwork for this anthology.
Our guidelines are simple. All stories MUST be inspired by Edgar Allan Poe and between 2,000 and 4,000 words (this word count is firm); When we say inspired, we aren't looking for direct retellings we're looking for your original story that has the flavor Poe.
MUST be in proper manuscript format. This means: Courier New or Times New Roman fonts, doubled spaced, no extra space between paragraphs, indent paragraphs. Words meant to be italicised or bolded in the final print, please make sure it is that way in your manuscript.
In the subject line please put: anthology submission – Your story title/Poe's referenced story.
For example: Anthology Submission – A Lonley Heart/The Tale-Tell Heart
Payment for accepted works will be a 1 cent a word US, plus one copy.
The reading period for this anthology will start July 1st and end July 31st or until filled. Stories sent before July 1st will be deleted unread.
Please read our magazine guidelines to see what we do not want. If you don't review our magazine guidelines, we will know. (Yes, we know you can't get Poe's written permission, but again we're not looking for retellings, but your original story)
All submissions must be in either .doc, .docx, or .rtf
It's "Possible" that the submission e-mail is: [email protected] as one isn't listed on The Anthology Guidelines Page. I'm assuming one will pop up on July 1st because that is when they are due but if it doesn't, that e-mail is probably the right place!
About the Author
Latest Posts
Stuart Conover is a father, husband, published author, blogger, geek, entrepreneur, horror fanatic, and runs a few websites including Horror Tree!