Taking Submissions: Horror for Hire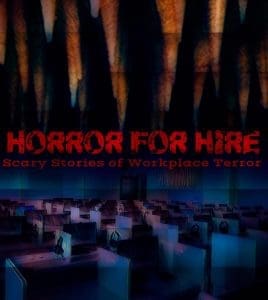 Deadline: April 10th, 2020
Payment: 50% to publisher and 50% split amongst contributors evenly
Theme: Scary Stories of Workplace Terror
Stuck in a dead end job? Wish you could get payback on that boss you don't like? Or maybe it's a coworker stalking you, or the coffee room rituals that is getting to you. Either way; we want these scary stories all about the workplace. Because Horror is for Hire! Read below the details of our newest anthology.
Title: Horror for Hire
Subtitle: Scary Stories of Workplace Terror
Submissions guidelines:
Word count: Max 5k words, minimum 2k words.
Payment info: 50% to publisher and 50% split amongst contributors evenly.
Email to: [email protected]
We are looking for:
stories of workplace woes, sticking it to the boss in the worst way. Think of the job you hate the most and add horror to it and make it 10 times worse. You can submit non-fiction but please change names if so. We prefer exclusive stories to allow for Kindle Unlimited release. Limit of 3 per author but please submit as many as possible and we will sort through them.
Submissions open: January 13 2020
Deadline: April 10th 2020
Releasing: Spring 2020
We have a Facebook group which will be in the comment thread below.
Via: Facebook.
About the Author
Latest Posts
Stuart Conover is a father, husband, published author, blogger, geek, entrepreneur, horror fanatic, and runs a few websites including Horror Tree!