Taking Submissions: His Soul's Still Dancing: A Nicolas Cage Inspired Anthology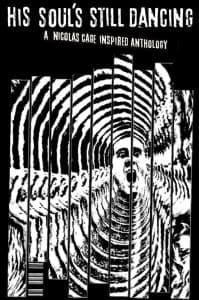 Deadline: October 31st, 2021
Payment: £25
Theme: Stories inspired by Nicolas Cage
Submission guidelines
"I am not a demon. I am a lizard, a shark, a heat-seeking panther. I want to be Bob Denver on acid playing the accordion."
Nicolas Cage, has lived a life blended with myth, madness and mystery. His performances imbued with other worldly energy and that requires tribute, want in? 
Ex-Parrot Press wants your Nicolas Cage inspired short fiction stories. Guidelines are as follows: 
Each successful Submission will receive £25 to be paid via Paypal and a copy of the anthology. 

2000-3000 words per story. 

Please make sure to edit and format your stories properly before submission.( I'll post a link in the comments with some tips on what you can do for this.) 

Simultaneous submissions, yes. Reprints, no. Although we will only publish one story from each writer. 

Email submissions to: [email protected]

Submissions close October 31st 2021.

Contributions should be double-spaced and written in English.

Use black, 12-point, Times New Roman as the font.

Use the U.S standard page size of 8.5 x 11 inches and set your margins to 1 inch on all sides.

Use a single space after periods.
About the Author
Latest Posts
Stuart Conover is a father, husband, published author, blogger, geek, entrepreneur, horror fanatic, and runs a few websites including Horror Tree!