Taking Submissions: Haunts and Hellions, A Gothic Romance Anthology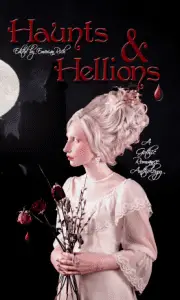 Deadline: October 31st, 2020
Payment: $10
Theme: Gothic Romances
GOTHIC ROMANCES of old featured a female protagonist dealing with a terrifying ordeal while struggling to be with her true love. Set against dark backgrounds of medieval ruins or haunted castles, the love interest was either a brooding handsome gentleman or a supernatural monster disguised as a gentleman. Following the example of such works as Northanger Abbey, Phantom of the Opera, The Grey Woman, Dracula, The Woman in White, Jane Eyre, Wuthering Heights, Witch House and the like, we want your darkest, creepiest horror love story.
Although we crave gothic romance style, don't feel the need to paint a damsel in distress. The woman may certainly be the one who saves the day. We are also open to LBGTQ love stories. The main plot should be horror and romance. We don't like stories written specifically with social or political agendas. Sensual or passionate stories are acceptable but we don't want erotica or sexually-based stories. No rape. The editor likes horror. Be careful of sci-fi creatures or anything that sways sci-fi or fantasy.
Stories MUST contain:
An overwhelming sense of menace and dread. Horror must be just as much a part of the story as romance.
Inclement weather.  ie…fog, rain, snow, hurricane. 
A supernatural horror being or entity. ie…ghost, monster, vampire, werewolf. Being can be the hero, anti-hero, or the being they are battling against. Just remember the editor likes horror. Be careful of sci-fi creatures or anything that sways sci-fi or fantasy.
Set in a spooky location. ie…ghostly gatehouse, haunted lighthouse, dilapidated abbey, crumbling cathedral, terrifying tower, cursed castle, decaying plantation.
Time period 1700-1940. We are looking for the classic gothic romance feeling in whatever time period you choose. Also, if writing a diverse character, please set to time period standards. Know your world, what the political/social rules were and if you break them, make sure it's plausible. If it's an alt-history world, make sure our readers understand how it became that way without writing an encyclopedia on the subject.
Look below for examples of books & movies that have the feeling we are looking for.
No previously printed work and no simultaneous submissions.
We are doing blind submissions. Wow us with your story.
Enter up to two short stories only. Make sure they fit the theme
Manuscript Format:
*Font: 12 pt Courier, Times New Roman, or Garamond.
*Double spaced.
*Your manuscript must be in either DOC, DOCx, or RTF format.
*DO NOT place your name in the manuscript.**
*No header on the manuscript. JUST THE TITLE.
**Again, we are doing blind submissions. Make sure the manuscript is scrubbed of your name and personal info. This could be an automatic decline.**
TO SUBMIT YOUR STORY, CLICK HERE:
https://forms.gle/KKb39vo7Go9FFqGZ6
Deadline: October 31st, 2020, 11:59pm PST
Length: 2,000-5,000 words
Payment: $10.00 USD + digital contributor copy
Return time: Final decisions will not be made until AFTER the submission close date (10/31/20). You should expect an answer within three months of the submission close date. If you do not receive an email stating your manuscript was received within two weeks of submission, please send a polite query to:  [email protected]
For any other questions, please send an email to: [email protected]
FURTHER EXAMPLES OF THE GOTHIC ROMANCE FEEL WE ARE LOOKING FOR TO INSPIRE YOUR WRITING: 
Movies: The Hearse, Crimson Peak, Vampire Journals, Dragonwyck, Sleepy Hollow, The Woman in Black, Gingersnaps Back, Brotherhood of the Wolf, Bram Stoker's Dracula (1992), Byzantium, Suspiria, Corpse Bride, Mary Riley, Dark City, Kill, Baby…Kill
Books: Northanger Abbey, The Grey Woman, Dracula, The Woman in White, Jane Eyre, Wuthering Heights, Witch House, The Yellow Wallpaper
Music: Midnight Syndicate, Valentine Wolfe, Destini Beard, Goblin, Mazzy Star
Musicals: The Phantom of the Opera, Sweeny Todd, Love Never Dies, Corpse Bride
TV Series: Dracula (2013), Penny Dreadful, Dark Shadows (1991), Twin Peaks
Via: Horror Addicts
Sign up for our Newsletter
Never miss a post from our team by signing up!