Taking Submissions: Grumpy Old Sherwood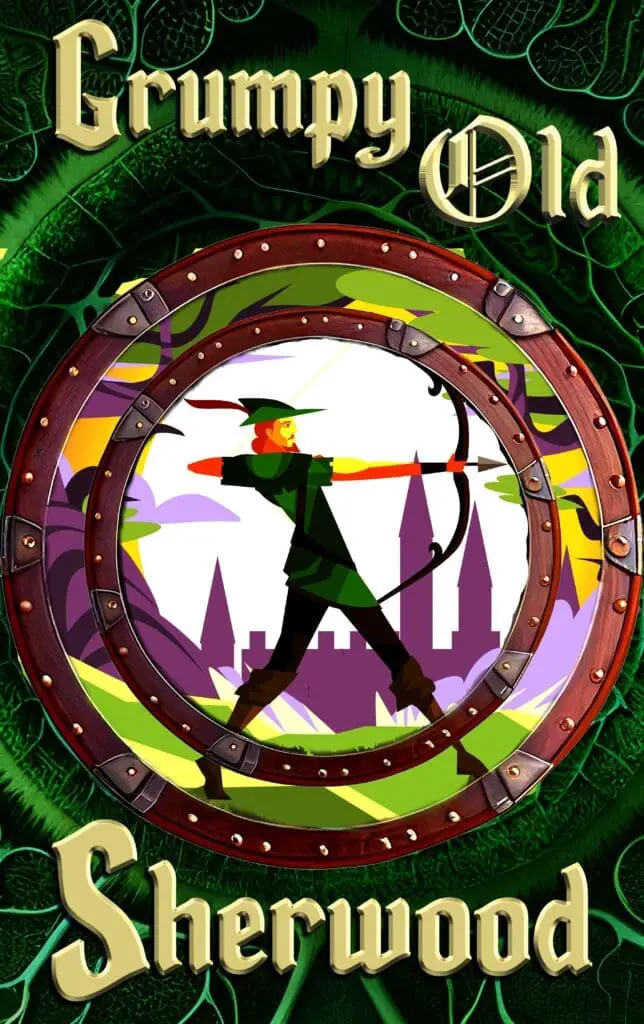 Deadline: May 1st, 2024
Payment: Royalties
Theme: Stories related to Robin Hood or Sherwood Forest with at least one grumpy character that are amusing and speculative fiction
Hear ye!  Hear ye!! 
It's time for another Grumpy Anthology and this time we're heading to those forests of yore to revamp tales of Robin Hood and his Merry Men. That's right, we're off to the land of leather jerkins and longbows for another chance for a Grumpy twist on a classic mythos.  
Why Robin Hood you ask?
We're so glad you asked.
Authors are readers, and for many of us, this group of stories are a cherished childhood memory.  Robin Hood wandered in and out of English Literature leaving a trail of tales (looking at you Ivanhoe), despite being the original rebel bad boy.
He literally robs from people who are in power.
How did these tales even survive? 
These stories survived because the common people loved them.  As early as the 1300's May Day celebrations featured Robin Hood stage plays.  They were entertainment for the masses, and the masses loved seeing the tricksy Robin pulling the wool over the eyes of influential figures.  Some of the first cheap short stories were Robin Hood broadsheets.
He's had more incarnations than Dr. Who.  A lot more.
Like all good mythologies, Robin Hood has grown and changed with his audience.
We took a deep dive when we began discussing this idea, and to our delight and joy – there's no set cannon.  There is no written version of this story that can be pointed to as the definitive beginning of Robin Hood.  Like our Grumpy Gods, his traditions were mostly oral and he was only later canonized.
What does that mean for us as Grumpy authors?
It means it's open season on storytelling.  It means you can take whatever bits you like best of thousands of available tales, and twist and turn them however you like.
Would you like your Robin Hood to live in a spaceship called the Sherwood and have him rob from the rich and give to the poor?  Go for it.  We live for that stuff.
Is your Robin a fallen noble in Italy during the Borgia reign?  Fascinating.  Sign us up.
Do you want to focus on the badassery of the original Maid Marrion who actually canonically bested Robin at swordplay in some of the stories?  Well, that's actual canon but if your characters are fun, we're here for it.
WHAT WE ARE LOOKING FOR:
We want to see AT LEAST one Grumpy character who is essential to the plot.  Antagonist, protagonist, the guy with the cabbages that keeps getting in the way of epic cart chases…
Our brand is Grumpy so keep that in mind while you write.
We publish humorous anthologies.  If we can't read your tale while drinking for fear of liquid coming out of our noses, then you have done it right.
Twist Endings:  A well-written tale is a must and a twist at the end makes our little editing hearts skip a beat.
Some or all of the core characters from the tales.  We don't have to have Robin or the Sherrif if you are writing Little John in a WWE match, but give the readers enough context so that they know why the story is in this anthology.
We're also looking for a modern author's take on those forest tales of yore.  The original tales were, as tales tended to be at the time,  plot driven with raucous humor, rollicking action, and a thumb'd nose at overreaching authority.
We'd love to see character driven tales in the same vein, preserving the outright fun of the stories as Robin (or his crew) wander around Merry Old England, the local mall, or a space station.
Do as ye will with setting and time as long as you preserve the central themes.
Do you want the Fat Friar to take on a Demon King with cleric magic?  Sounds fun.
What type of Bard is Will Scarlett anyway?
And why does the Sherrif of Nottingham always look like Alan Rickman?  (Or is that just us?)
GENRE:
 SPECULATIVE FICTION.
What is Speculative Fiction? Well, Wikipedia says… "It encompasses the genres of science fiction, fantasy, science fantasy, horror, alternative history, and magic realism."
That's a big playground, and we're encouraging our writers to play.
WORDS: 3000-4000
RATING: PG-13 TO PG-17
Any sex, violence, or foul language MUST be tastefully handled and necessary to the plot enhancing the story rather than distract. Excessive use will probably not fit with anthologies' overall tone.
(But if you check out Grumpy Old Love Gods, you'll notice that we led with a story about a dead porn star.  Well, everything in that story was tied to the theme like it was Odysseus about to face the Sirens – and it was FUNNY.)
DEADLINE FOR SUBMISSIONS:
May 1st 2024
SUBMISSION FORMAT:
Word Doc or RTF 
Must have in Subject Line: Grumpy Old Sherwood:  Please don't forget this.  We're begging.  We're awed and humbled by the response to these calls – thank you all so very much for trusting us with the precious stories that only you can produce.
That said, our inbox gets slammed and every minute we're sorting through submissions is a minute we're not putting out anthologies.  
PUBLICATION:
Tentative Date:  Summer 2025  (Note:  Like Robin Hood, we're a small, but mighty, band of outlaw publishers who all have day jobs to put grits on the table – please keep that in mind!)
NOTE:  Because of the cyclical nature of our anthology, we OFTEN bookmark stories for later anthologies.  If you don't hear back from us, we might have your story in mind for another anthology.  We're happy to remove your story from our potential list if you choose to do so at any time.  Just drop us a line!
WHAT RIGHTS ARE WE ASKING FOR?
We generally ask for first run rights, but there have been cases where we have negotiated for a particularly apropos story.  We're also asking for non-exclusive rights to put the book in audio format.  In layman's terms, we get to use the story in the anthologies and you keep all the rights to the story itself.   We're all working writers.  We want you to make money from your work and to go on and do big things after this anthology.
PAYMENT:
Profit share
SUBMIT TO:
SUBJECT LINE: Must have in Subject Line: Grumpy Old Sherwood
DETAILS:
Must be your original work.
You can create your own cannon. Go wild.
It must fit the theme and tone of the anthology.
It must have some aspect of speculative fiction in the story.
Must not violate any copyright laws.  There's a lot of history to mine.  Go find original source material.
Must include a bio of the author in a separate document (not that we're going to judge anyone by their bio…it just makes putting the book together a lot easier if all the information is in the same place).
No poetry. No plays. No matter how amazing your poems are (and some of them have been) we simply don't have a payment structure in place for something that short. We might eventually have an unpaid poetry venue on the blog. As for screenplays/plays… we don't have the marketing staff to branch out, and they obviously don't work in an anthology.
No dual submissions. If you have submitted your piece to someone else, please do not submit to us.
You can submit more than one story to us for consideration in an anthology. (Limit 3).  We will not print more than one submission from one author in any single anthology, but we're quite willing to call 'dibs' on the stories for future anthologies if we love them and you are amenable.
If you have an idea you think fits the theme but is not outlined or a question about it email us at [email protected]
While the nature of humor is sometimes inflammatory, PLEASE do not write anything that will cause someone to kill you, or by extension, us. 
Dead writers collect no royalty checks.   Dead Editors can't sign them . 
(All Muses must be convinced to write in American English since the Editors of this anthology do not speak Ancient Greek, Latin, Gaelic, or Middle English.)
Let that inner Muse out! Feed her Pixie Stix and see how much awesomeness she can cram into 4000 words.
Via: Storm Dance Books.
About the Author
Latest Posts
Stuart Conover is a father, husband, published author, blogger, geek, entrepreneur, horror fanatic, and runs a few websites including Horror Tree!