Taking Submissions: Grimoire Magazine: Medusa Issue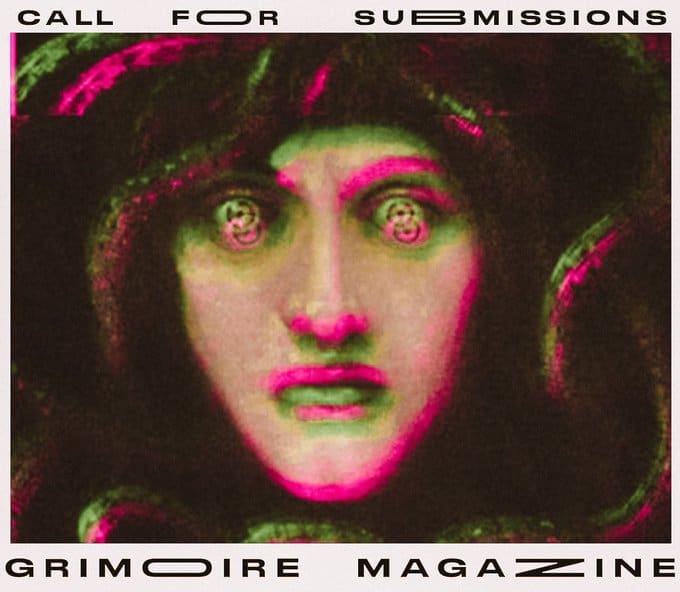 Deadline: August 1st, 2023
Payment: $20
Theme: Icing out your enemies, femme-presenting antiheroes, Medusa, the White Witch, snow queens in general
Icing out your enemies, femme-presenting antiheroes, Medusa, the White Witch, snow queens in general, Nina Maclaughlin's Wake, Siren, Madeline Miller's Circe, Spring Breakers, Merricat from Shirley Jackson's We Have Always Lived in the Castle; Promising Young Woman, Alison Rumfitt's Tell Me I'm Worthless, burning your ex inside of a bear, Ottessa Moshfegh, murderous kitsunes, Onibaba, Bunny by Mona Awad, Lady Vengeance, Emma Frost, The Low, Low, Woods by Camera Maria Machado, Lady Tremaine, sirens in general, revenge ghosts, Carol Ann Duffy's "Medusa" and The World's Wife, Beloved by Toni Morrison, Carrie, Lady Macbeth, fashion bitches, Cathy Earnshaw from Wuthering Heights, Fairuza Balk in The Craft, bell hooks' killing rage, Bertha in Wide Sargasso Sea, Shakira cursing her ex and mother-in-law from the balcony of her home, Sylvia Plath, femme fatales, Gretchen Felker-Martin's Manhunt, Cersei Lannister, Fragment of the Head of a Queen by Cate Marvin, blud by Rachel McKibbens,  Judith Beheading Holofernes by Artemisia Gentileschi, spitting on graves, villain equality, Lisbeth Salander, Audre Lorde's "The Uses of Anger," PJ Harvey, Beyonce's Lemonade, Kali, Katherine Faw's Ultraluminous, coming to your house in the middle of the night to cut up all your wigs.
If you see yourself in the mirror, submit your work to the newest incarnation of Grimoire by AUGUST 1, 2023
B E F O R E   Y O U   S U B M I T
The best way to know what we want is to look in our mirror (see below) and to read past issues of the magazine. You can find our archive here.
D R E A M S
Regardless of issue theme, we're also always looking for dreams for our resident dream expert, Billy, to interpret. Billy may or may not be a Grimoire coven member with a copy of Billy Bing's Dream Book. Please don't use Billy for real life advice; that's what therapists are for. Please peruse a few examples from the archives before emailing us yours, and include Dear Billy in the subject line.
When we are open for submissions, we DO accept simultaneous submissions.
All submissions, queries, and questions can be sent to the witches at [email protected]
We accept .doc, .docx, or .pdf. In case of a .pdf, we will need a writeable file upon acceptance.  No shared Google docs, please.
T H E   D E T A I L S
W H A T   W E   D O N ' T   W A N T
Grimoire does not want your work if it includes racism, sexism, misogyny, ableism, ageism, homophobia, body-shaming, xenophobia, anti-immigrant sentiment, Islamophobia, TERF nonsense…basically, don't send us bigoted or abusive nonsense of any kind, full stop. Irony is no excuse.
P A Y M E N T
Each writer will receive one shiny $20 bill upon publication; featured artist payment will be negotiated on a case by case basis. We unfortunately will not be able to pay for single images from artists. We earn no revenue from this endeavor but if you would like to support us, please donate to our kofi. 
R E S P O N S E   T I M E
Our staff is all volunteer, and there are only three of us. We attempt to clear our inbox prior to the release of a new issue, so expect a wait of up to eight months, and possibly longer if we are holding your submission for a future issue. We will respond as soon as humanly possible. Please don't contact our editors on their personal social media accounts.
R I G H T S
We request first serial rights. If your work is reprinted, we kindly request that you let us know (so we can celebrate) and credit us with first publication. On occasion we will solicit a reprint, in which case we request one-time nonexclusive Internet use. Please do not submit previously published work to us.
O N P O E M S
We are open to all kinds of poetry, from the lyric to the experimental. Please include Poetry in the subject line.
O N S H O R T   S T O R I E S / C R E A T I V E   N O N F I C T I O N
Our only real limit is 4,500 words. We accept hybrid work; just because we haven't published something like it before doesn't mean we're not interested. Please include Fiction or Nonfiction in the subject line.
Via: Grimoire Magazine.
About the Author
Latest Posts
Stuart Conover is a father, husband, published author, blogger, geek, entrepreneur, horror fanatic, and runs a few websites including Horror Tree!