Taking Submissions: Great Weather For Media 2022 Winter Window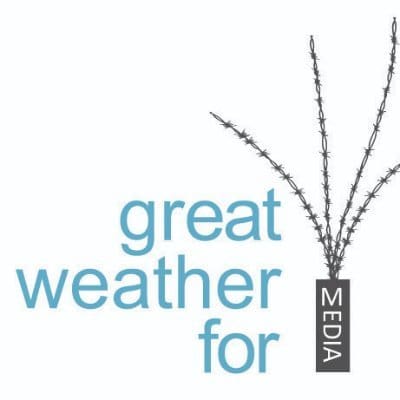 Deadline: January 16th, 2023
Payment: $10 and a contributors copy
Theme: edgy, fearless, and experimental subject matter and styles
great weather for MEDIA seeks poetry and prose for our annual print anthology.
Our reading period runs October 15, 2022 to January 16, 2023. (Midnight PST)
Our focus is on edgy, fearless, and experimental subject matter and styles.
We highly recommend reading one of our previous collections to see the type of work we are interested in and the design of our books. Our latest anthology is Arriving at a Shoreline. (Looking for a bargain? We have a very limited number of slight seconds for $5 at our online store.)
Let us know in your cover letter how you found us and what you like about us. We are based in New York City and welcome submissions from both national and international writers.
https://www.greatweatherformedia.com/
If you choose to leave us a tip with your submission, we will deeply appreciate your support. We do not however distinguish between free and Tip Jar categories during our reading and selection process. 
Your tip goes towards Submittable fees, maintaining our website, and paying contributors. After Submittable processing fees, we receive $1.86 per $3 tip donation.  Your contribution ensures we keep a no-fee option for our submission calls. 
Donations are entirely voluntary. We are all writers ourselves and know tips are just one way to express your love and respect.
Guidelines:
Surprise us with your fearless best! 
We do not consider previously published work, whether print or online. This includes limited edition chapbooks and personal blogs.
If your work appears in our most recent anthology, please wait a year before submitting again in any genre.
Please submit only once in each genre (poetry / prose) and do not submit again until you have received a response.
1-4 poems of any length and theme. If you are submitting more than one poem, include them all in a single document. Do not submit multiple poems in separate files. Start each poem on a new page.
One prose/creative nonfiction piece, two if both under 500 words. Maximum word count: 2,500. Please include the word count on the first page.
Simultaneous submissions are fine – just notify us with your good news immediately.  If you wish to withdraw individual pieces from consideration, click on the title of your submission, click on Active, and add a note listing the title(s) to be withdrawn. If you need to withdraw your entire submission, please use the Withdraw button.
Please don't send revisions. You can always add a note to your submissions if there is something you need to let us know about.
Payment: One contributor copy, plus $10 for writers based in USA. International writers receive one copy.
We aim to respond in 1-4 months. If you have not heard from us after five months, please email 

[email protected]
Copyright: great weather for MEDIA holds first serial rights for material that we publish. The copyright automatically reverts to the author upon publication. All work may be permanently archived online. We ask that great weather for MEDIA be acknowledged in any subsequent publication of the work.
Via: Great Weather for Media.
About the Author
Latest Posts
Stuart Conover is a father, husband, published author, blogger, geek, entrepreneur, horror fanatic, and runs a few websites including Horror Tree!