Taking Submissions: Graveyard Boots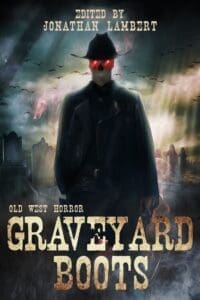 Submission Window: April 2nd to August 31st
Payment: Half cent per word
Theme: Speculative Fiction taking place in the Wild West
Graveyard Boots: The Old West. Lawless. Filthy. Challenges were numerous. Justice was haphazard. One could die from a gunshot, a snakebite, a disease, or any number of reasons. It was not a place for the weak of heart. And that was just the wild west all by itself. For "Graveyard Boots," we seek stories that add creatures, gunslingers, ghouls, ill omens, bad luck, evil minds, monsters and more to the already desolate landscape and ghost towns. Yet there was still humor back in those days of yore, and with "Graveyard Boots," stories with humor will give you a leg up.
"Graveyard Boots" Guidelines: Here are a couple of tips to put your story in better position to be accepted. 1. Fit the theme. Old West. Horror. Of course, Jolly Horror Press loves humor. 2. Be within our word count guidelines (for "Graveyard Boots", 2500 to 5500) or query us for shorter/longer. 3. No matter how good your story is, if it hasn't been edited, there is a big chance we won't accept it. In the past, we've accepted stories that needed a lot of editing work, but it took so much effort to make them presentable. We aren't doing that anymore. If within a page or two of reading the story we find a bunch of editing issues, it's going to be rejected. 4. Be unique. No matter what the theme of the anthology is, you should always be unique. If it's a stalker anthology for example, and your ex or some guy you work with is your stalker, it's trite. If your grandma is stalking your fiancée, well, that's unique. 5. At Jolly Horror Press, we prefer subtle horror. We generally don't like gruesome and overly bloody stuff. If someone is getting hacked to bits in your story, it's probably not for us. 6. We seriously still get racist/sexist/anti-gay stuff. Don't send us this stuff. 7. If there is any kind of animal killing or torture, not for us. We want old cat ladies to enjoy our work too. 8. Surprise us! 9. We love new and unpublished authors, provided you can follow 1-8. 10. No reprints.
Diversity and Inclusiveness: Yes, we want stories from all sectors, from all kinds of people! We encourage submissions from women, people of color, and the LGBTQ+ community. We seek to include writers from all walks of life who have a scary/funny story to tell.
The Details: Please see our generic submission guidelines page for how to submit.
Open submission period: April 2, 2023 to August 31, 2023.
Reading Period: September 1, 2023 to November 30, 2023.
Expected publication date: December 2023
Payment: $.005 (one half cent) per word.
Via: Jolly Horror Press.
About the Author
Latest Posts
Stuart Conover is a father, husband, published author, blogger, geek, entrepreneur, horror fanatic, and runs a few websites including Horror Tree!