Taking Submissions: Ghoulish Tales Issue #2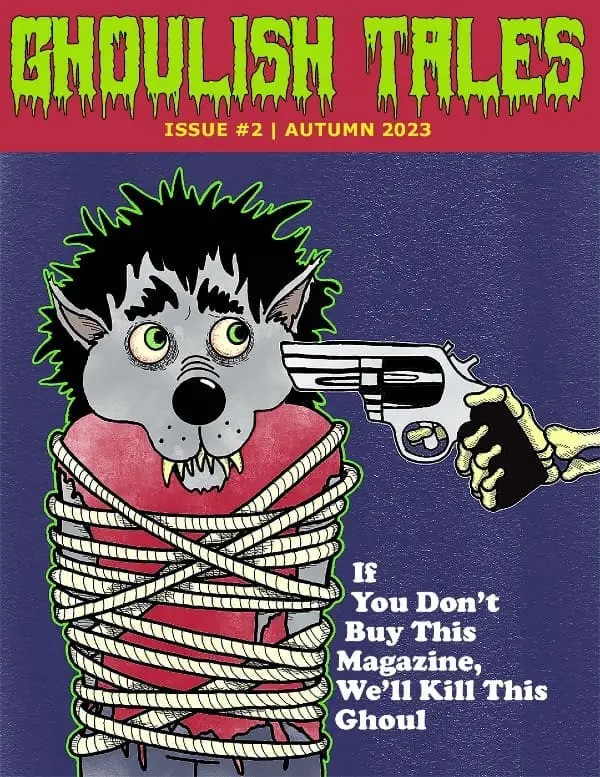 Deadline: August 31st, 2023
Payment: 10 cents per word
Theme: Stories that are ghoulish or "fun horror that aims to celebrate all things spooky"
We are…blown away by this cover, and we can't wait to fill it with a bunch of gnarly stories. That's where you come in.
What we are after: short stories that fit our personal definition of the word GHOULISH, which is "fun horror that aims to celebrate all things spooky."
Note that we said fun, not funny. Comedic stories are definitely allowed, but it's not all we're looking to receive. We want stories that remind us why we love the horror genre. We want to have a perverted little smile across our face while reading. Make us slobber like idiots. Turn us into the Sickos.jpeg meme.
We are also interested in non-fiction about the horror genre.
GUIDELINES:
Deadline: August 31, 2023 (11:59 PM CST)
Word count: 5,000 max (short stories); 3,000 max (non-fiction)
Payment: 10c per word
Simultaneous Submissions: Yes
Multiple Submissions: No (Please only submit one story per open call. If we reject you, do not resubmit until we reopen for the next issue.)
Reprints: No
AI Submissions: No. Please note if you are caught sending us an AI story, you will be blacklisted from ever publishing with us in the future. Don't do it.
How to submit: Send all stories & essays to ghoulishsubmissions @ gmail dot com with [TITLE] – [ LAST NAME] – [STORY/ESSAY] in the subject line. Please do not copy/paste the story in the body of the email. We prefer Word doc attachments if possible. All inquiries can also be directed to the same address.
As you wait, feel free to come hang out in the GHOULISH discord.
Thank you and good luck, ghouls!
Via: Ghoulish Books.
About the Author
Latest Posts
Stuart Conover is a father, husband, published author, blogger, geek, entrepreneur, horror fanatic, and runs a few websites including Horror Tree!