Taking Submissions: From the Ashes: An Anthology of Elemental Urban Fantasy (for Burn Survivors)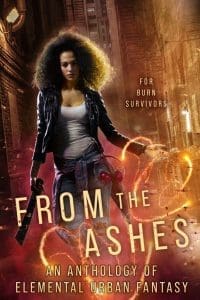 Deadline: July 16th, 2022
Payment: Original Fiction: $0.08/word up to 1,000 words, and $0.01/word after Reprints: $0.01/word
Theme: Must contain fire-based elemental magic in an urban fantasy setting.
Note: Reprints Welcome
Aurelia Leo presents the first of many fiction and poetry anthologies for a cause. In addition, the "Phoenix Warriors" who are selected to be a part of these anthologies will work together to hit the USA Today Bestseller list for no additional cost. This anthology will support the burn community in two ways:
Full disclosure, the company was started by my mom and me as I had flash burns, and she sustained 3rd-degree burns on 25% of her body.
GUIDELINES
Form? https://forms.gle/SxRKcYMgAFpCg7nv7
(Flexible) Deadline: July 16, 2022
Publication Date: February 7, 2023 (During National Burn Awareness Week)
Payment:
Original Fiction: $0.08/word up to 1,000 words, and $0.01/word after
Reprints: $0.01/word
Length? Flash (1,000 words) up to novella length (39,999 words) (NOT FLEXIBLE)
Format? Shunn Modern Manuscript Format
Track submissions using Duotrope and The Submission Grinder.
THEME
Must contain fire-based elemental magic in an urban fantasy setting. Your main character can control it. Maybe the villain has it. It's flexible. Bonus points if your MC is a burn survivor. A romantic subplot is okay but not required.
RULES
Translations are accepted
Simultaneous submissions to other markets are accepted
Only two submissions allowed in total (one original and one reprinted story)
RIGHTS
Copyright remains with the author at all times
Non-exclusive archival rights as long as the website(s) hosting the work are online
First world electronic and print rights in English with exclusivity for 12 months from the date of publication
If selected to be republished in another anthology in the future, payment in royalties is $0.01USD per word
If selected for a podcast or audiobook, payment is $0.01USD per word for non-exclusive electronic audio rights
HARD SALES
Excerpts out of a novel
Poorly formatted and edited work
Overtly racist, sexist, or violent work
ABSOLUTE NO
Fanfiction of any kind
Works above the word count
Taboo elements (rape in all forms, incest, pedophilia, etc.) in almost all cases
OF INTEREST
Protagonists that are Queer, Trans, Black, Indigenous, or/and People of Color (QTBIPOC)
Settings outside of the United States of America, or the United States of America as we know it
Intersectionality in regards to gender, class, ability status, ethnic origin, religion, sexual orientation, and so on
We take 2-3 weeks to respond to submissions. If you haven't received a response by then, please query. If you have any questions, email info [at] aurelialeo.com.
Via: Pride Book Cafe.
About the Author
Latest Posts
Stuart Conover is a father, husband, published author, blogger, geek, entrepreneur, horror fanatic, and runs a few websites including Horror Tree!