Taking Submissions: Fractured Realms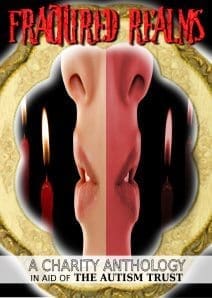 Deadline: July 31st 2014
Payment: Charity Anthology – Exposure Only
Payment: Exposure & discounted copies
ALL profits received will go to THE AUTISM TRUST
Flash fiction & Short Stories (3,000 – 6,000 words)
Poetry and re-prints will also be considered
The world is never quite as it seems; full of infinite contradictions and things just beyond the realm of understanding for many of us. Often, we try to disregard what we cannot comprehend, choosing ignorance over clarity as we turn a blind eye to that which may cause us discomfort. The world is a broken place defined by endless shards of cracked reality, but in the jagged crevices light seeps through…a light that sometimes shines so bright, its magnificence is impossible to ignore.
For too long a time, a shroud of darkness was thrown over those who've had boundless potential to transcend greatness – shunned and cast out – often put down and made to feel 'less than'. But a brilliant mind can't be caged away forever; instantaneous flickers in time will reveal the magnitude and depth of the human spirit.
Extraordinary people marked 'not normal' come from all different walks of life, and at times the rest of us can consider ourselves fortunate to have witnessed moments when they have broken through the shell of misjudgment forced upon them. People like Susan Boyle, from 'Britain's Got Talent', who took a bus ride one day that changed her life forever, or Dan Aykroyd, a writer and actor who brought laughter to many on Saturday Night Live. As Alexis Wineman, Miss Montana, who competed in the Miss America pageant, said, "Normal is just a dryer setting".
We couldn't agree more—this is a very personal project for Suzie Lockhart & Bruce Lockhart 2nd.
There is a common thread that links these inspirational figures, including many others such as Stephen Wiltshire, who after a 20 minute helicopter ride over New York City was able to sketch breathtaking panoramic drawings from sheer memory, to Temple Grandin, a brilliant Innovator/Inventor and Advocate.
What links all these people together; who've at times suffered enduring isolation from being trapped inside their own minds, is that they all fall under the Autism Spectrum. The CDC classifies ASD as:"A group of developmental disabilities that can cause significant social, communication and behavioral challenges."
Today, 1 in 88 individuals will be diagnosed as falling under that umbrella. Even with this immense obstacle blocking their path, such inspiring individuals have pushed forward, refusing to be victim to a statistic.
Thanks to Horrified Press understanding that seeds of greatness can't be cultivated through the judgment and condemnation of others, this 'Fractured Realms' anthology has become a reality.
Imagine the world never having heard the music of composer Wolfgang Amadeus Mozart? No sculptures such as Michelangelo's David, no Sistine Chapel? What if Sir Isaac Newton hadn't discovered gravity, and laws of motion that would be relevant 300 years later?
And for all the writers out there, were you aware that Lewis Carroll, author of 'Alice in Wonderland', and one of the most brilliant poems ever written, "Jabberwocky", fell under the umbrella of Autism?
So to all of you who are reading this, ask yourself…
"Is Autism a disorder, or is it a gift?"
Fifteen special authors' stories will be selected for this anthology, along with three poets. We are looking for a combination of science fiction and horror between 3000 and 6000 words long (with the exception of poetry).
Really put yourself into the metaphorical shoes of a broken psyche, a misunderstood soul, a mind so beyond brilliant that the world they are in makes no sense. Write something unlike anything you've done before, outside of the box and unique. Help the reader become lost inside your special character as they ride a ray of light reflected off that broken shard, taking us inside a fractured realm…
Please submit your manuscript as a *.doc or *.docx file (all other formats will automatically be rejected. Contact prior to submitting if this presents an issue for you.)
Font and formatting: Please submit in Times New Roman, 12 point font; single line spacing. Please format the document to 1st line indentation of 1″. The page margin should be set to 1″ on all sides.
Please check grammar.
Upon publication of the anthology, all intellectual property rights revert to the author with the proviso that Horrified Press retains distribution rights in the format of the contracted anthology.
This title will be available as an E-book, and as a quality trade paperback.
Authors will be given the chance to purchase copies at 60% of the retail price.
ALL profits received will go to THE AUTISM TRUST.
Email all submissions to [email protected]
The email subject line must read "SUBMISSION – FRACTURED REALM" – 'your story title', or your submission will not be considered for this anthology.
This open call will end on July 31st, 2014.
NO announcements or acceptances will be posted until AFTER that date.
Via: Horrified Press.
About the Author
Latest Posts
Stuart Conover is a father, husband, published author, blogger, geek, entrepreneur, horror fanatic, and runs a few websites including Horror Tree!