Taking Submissions: For Whom the School Bell Tolls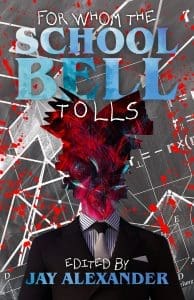 Deadline: February 28th, 2022
Payment: £15
Theme: Horror set at school, college, university, or somewhere in-between
Note: Any harm to children (of any age) must be sensitive and well-considered.
For Whom the School Bell Tolls
edited by Jay Alexander
Submissions open from January 8th to February 28th. Selected authors will receive a £15 fee.
We're looking for stories between 1,000-6,000 words. The theme is HORROR IN THE CLASSROOM – whether that's horror set at school, college, university, or somewhere in-between.
You could even set your story at a nursery, but please bear in mind: any harm to children (of any age) must be sensitive and well-considered. We appreciate that this is a risk of the subgenre but ask all authors to be considerate of age when dishing out horror to their characters.
After all, there are plenty of teachers within these walls…
Releases April 2022. Important: please send all submissions to [email protected].
Please ensure you follow these guidelines for all submissions. Any stories not following these guidelines may, unfortunately, be rejected. We will accept reprints (as long as you inform us where they have been published before, and own the rights to the stories), and multiple submissions (up to two per author per submissions call).
Refer to individual submissions calls for an outline of the theme and length we're looking for, as well as a specific email address for you to send your submissions to. Themes, lengths and submissions email addresses vary from book to book, so pay close attention to make sure your story ends up in the right place.
Email your submission to the email address corresponding to the submissions call you are responding to. Please include your name and the title of the submission in the subject header in this format: "AUTHOR NAME – STORY TITLE – SUBMISSION".
In your email, include your name and a brief cover letter, as well as an author bio for us to print at the back of the book if your story is selected. Don't stress too much about the cover letter or email itself. Please do not paste your work into the email body; instead, attach a .doc, .docx or .rtf file.
Please make sure your work is double-spaced and written in a sensible, 12pt font.
Any formatting is fine – Shunn formatting is not necessary, but will not be dismissed – as long as it's sensible and easy to read.
Please do not use the "tab" or "space" key to indent your paragraphs, as this creates a lot of extra work for our editors. Instead, use the ruler at the top of the page. Unsure how to do this? Check out this tutorial: https://support.microsoft.com/en-us/office/using-the-ruler-in-word-775014ca-7bb9-4b75-ba19-4478c4a836d1
Make sure you're happy with the piece you're submitting. Most of our submissions windows are fairly wide, and we're always happy to take into consideration edits at a later stage, but we want you to be as confident in the work you're submitting as you can be.
If you have any questions, please email [email protected]. Good luck!
Via: Blood Rites Horror.
About the Author
Latest Posts
Stuart Conover is a father, husband, published author, blogger, geek, entrepreneur, horror fanatic, and runs a few websites including Horror Tree!