Taking Submissions: Fable: An Anthology of Horror, Suspense & the Supernatural
November 30, 2022

-

December 1, 2022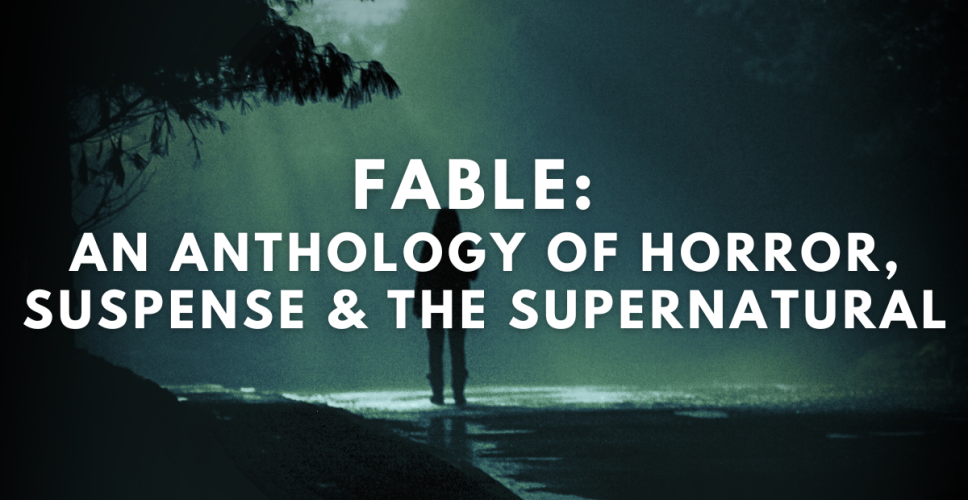 Deadline: November 30th, 2022
Payment: Original Fiction: $0.08/word for the first 1,000 words, and $0.01/word after. Reprints: $0.01/word
Theme: Horror, mystery, crime, thriller, and/or suspense.
Note: Reprints Welcome
Aurelia Leo presents FABLE: An Anthology of Horror, Suspense & the Supernatural open to all authors. Submissions must fall into one of the following categories: horror, mystery, crime, thriller, and/or suspense. Supernatural elements are encouraged. However, they are not necessary.
GUIDELINES
Submit? pridebookcafe.com/submit
Deadline: November 30, 2022
Publication Date: Mid-2023
Payment:
Original Fiction: $0.08/word for the first 1,000 words, and $0.01/word after
Reprints: $0.01/word
Length? Flash (1,000 words) up to novella length (39,999 words) (NOT FLEXIBLE)
Format? Shunn Modern Manuscript Format
Track submissions using Duotrope and The Submission Grinder.
TABLE OF CONTENTS
"Me, A Hero" © Warren Benedetto (2,200): TBA
"Paddlejumpers" © R. B. Payne (5,950): Two graveyard shift EMTS battle an invasive species when they respond to a not-so-routine emergency call from Hollywood's famed adult ranch film location.
"The Vandal" © Antony Paschos (8,300): TBA
RULES
Translations are accepted
Simultaneous submissions to other markets are accepted
Only two submissions allowed in total (one original and one reprinted story)
RIGHTS
Copyright remains with the author at all times
Non-exclusive archival rights as long as the website(s) hosting the work are online
First world electronic and print rights in English with exclusivity for 12 months from the date of publication
If selected to be republished in another anthology in the future, payment in royalties is $0.01USD per word
If selected for a podcast or audiobook, payment is $0.01USD per word for non-exclusive electronic audio rights
HARD SALES
Excerpts out of a novel
Poorly formatted and edited work
Overtly racist, sexist, or violent work
ABSOLUTE NO
Fanfiction of any kind
Works above the word count
Taboo elements (rape in all forms, incest, pedophilia, etc.) in almost all cases
OF INTEREST
Protagonists that are Queer, Trans, Black, Indigenous, or/and People of Color (QTBIPOC)
Settings outside of the United States of America, or the United States of America as we know it
Intersectionality in regards to gender, class, ability status, ethnic origin, religion, sexual orientation, and so on
We take 2-3 weeks to respond to submissions. If you haven't received a response by then, please query. If you have any questions, please contact us.
Via: Pride Book Cafe.
About the Author
Latest Posts
Stuart Conover is a father, husband, published author, blogger, geek, entrepreneur, horror fanatic, and runs a few websites including Horror Tree!