Taking Submissions: Don't Cry to Mama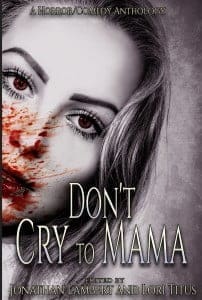 Deadline: August 1st, 2018
Payment: $25
We're all grown up right? Or are we? Do things in the night still make you wanna cry to mama? Well you can't anymore, she doesn't live here. Time to face your demons, man or woman. Mama ain't here, but all she ever wanted was to hear your laughter, and to know you're safe. You're not safe. It's just you now. But you won't let mama down, right?
Did mama tell you if you did that thing with your face it would freeze that way? Or that pop rocks and cola would make your stomach explode? Give us your funniest, grossed out horrors about the things and creatures you were warned about by your mama, God rest her soul (if applicable, of course). We want stories that tread that line between cringe worthy and shudder filled, tales that will make you laugh uncomfortably while being genuinely terrified. If you can strike that balance, we want your story. Your story must include a reference to Mama, or it won't fit the anthology theme.
Diversity and Inclusiveness: Yes, we want stories from all sectors, from all kinds of people! We encourage submissions from women, people of color, and the LGBTQ+ community. We seek to include writers from all walks of life who have a scary/funny story to tell.
The Details: Please see our generic submission guidelines page for how to submit.
Submission Period: May 27, 2018 to August 1, 2018
Reading Period: August 2, 2018 to December 31, 2018
Author Payment: $25 per accepted story.
Via: Jolly Horror.
About the Author
Latest Posts
Stuart Conover is a father, husband, published author, blogger, geek, entrepreneur, horror fanatic, and runs a few websites including Horror Tree!