Taking Submissions: Diabolical Plots (Early Listing)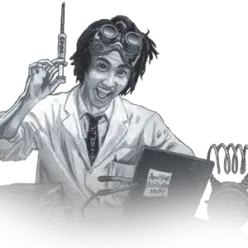 Deadline: January 31st, 2020
Payment: 10 cents per word
Theme: Science fiction, fantasy, horror (everything must have speculative element, even horror).
Note: This does NOT open until January 1st, do not submit before this time.
Diabolical Plots will be open for submissions for the entire month of January 2021.
---
David Steffen is the editor, who you may also know from using the Submission Grinder writing tool or reading the Long List Anthology series.  Diabolical Plots is a SFWA-qualifying market, so if you have a personal goal to join SFWA, making a sale here would help you toward that goal.
This year Ziv Wities will be in the role of assistant editor.  He will be handling much of the first round of the submission process, as well as helping to write personal rejections when we provide personal rejections.
For the most part we expect the process will generally be the same–but the biggest difference is that in past years David read at least part of every submitted story, which is not expected to be true this year because of time constraints–thankfully Ziv is willing to step in and lend a hand!
FICTION
OVERVIEW
Genres: science fiction, fantasy, horror (everything must have speculative element, even horror).
Word count: 3500 words or less. This is a firm limit.  If you submit a longer story, it will be rejected unread and that will count as a submission. Do not query to ask permission to submit something longer–the answer will be no.
Pay rate: 10 cents per word (more than the minimum professional rate as deemed by SFWA)

Multiple submissions: A total of TWO submissions per author during this submission window.  You don't have to wait for one response to send the second one–you can just send both whenever you want during the window.
Simultaneous submissions: No.  We understand we are tying up your story while you wait, and so we strive to respond as quickly as possible.  While each year might be different, in previous years the maximum wait time to get a first response (a rejection or a hold notice) was 14 days.  The maximum overall wait time if someone submitted on the first day and was held was about 6 weeks.
Reprint submissions: No. That means you should not submit anything that has been published in any format, blog, e-zine, print, podcast, anything.  Sharing stories with other authors in login-protected critique sites like Baen's Bar or Critters is fine.
Resubmits: No.  Do not send a story you've submitted to us before, whether it's been revised or not.
Estimated Resolution Time: 30 days after end of submission window.  We will send initial responses to stories as we read them, which will either be hold notices or rejections.  Hold notices will be kept until after the slush window to winnow down to the final selection.
ABOUT ANONYMITY:  We have followed a very strict anonymity policy in the past that has meant that stories that were not fully anonymized were immediately disqualified.  After some discussion with people in publishing, we have decided to keep the preference for anonymity, but not have such dire consequences if it's broken.  Please try to keep your name out of the story and the story notes boxes.  But if you forget, your story will not be disqualified for it.  So, please keep it in mind, but don't sweat it too much.  If you query, we prefer that you ask about the submission ID if you have it, and your email address if you don't, but again, making a mistake is not a disqualifying act.
ABOUT STORY NOTES: We no longer ask for a cover letter on submission, but we do ask if there's anything you'd like us to know as we read the story.  You can tell us it's a translation in that box.  If the story is tied to something of your personal experience, this would be a good place to mention it, if that's something you want us to keep in mind.  For instance, if your protagonist uses a wheelchair and you use a wheelchair, and if you'd like us to be aware of this when reading, you can mention it here.  You are never required to enter anything in this box, and it won't be held against your submission if you don't.
WHAT ARE WE LOOKING FOR?
Speculative fiction–science fiction, fantasy, and horror. Everything should have a speculative element–that includes horror. Feel free to mix in other genres at will–a fantasy mystery or a science fiction romance.
And yes, we really mean it has to have a speculative element. If you submit a serial killer story with only mundane elements, even though that could be a horror story it's not a speculative horror story and it will be rejected regardless of quality.
Things that we tend to really like:
Weird fiction
Sense of wonder
Strong character and plot arcs
Strong worldbuilding, hinting at more to see around the edges of the story
Philosophical food-for-thought
Straightforward, easily readable style
Religion, where the story does not try to convert the reader, nor does the story demonize religion
Platonic friendship between men and women
Contemporary exemplars of my favorite short fiction writing style are Effie Seiberg, Khaalidah Muhammad-Ali, Ferrett Steinmetz, Nicky Drayden, Tina Connolly, Eugie Foster, Joseph Allen Hill, Caroline M. Yoachim, LaShawn M. Wanak, Sam J. Miller, Rachael K. Jones.  Tight concise prose that gives you everything you need to understand the story without overstaying its welcome, relatable characters, cool speculative ideas, all written very tightly.  You don't have many words, there is no space to waste.
Rachael K. Jones's concise and accurate take on David's tastes from a previous year, but which still applies (Rachael is the writer who has sold the most stories to Diabolical Plots to date, totalling 3 stories):
I'd say David definitely loves *weird* fiction (the Drabblecast story selection is one of his favorite things ever), but I'd steer clear of anything that's high in style but low in substance. I say this from reading years and years of his comments on the Escape Artists forums, and from swapping writing with him regularly over this last year.  So think less "literary" and more "startling, odd, and interesting". Make sure there's a plot and it's not just a mood piece (even a very good mood piece).  I'd say, generally, he prefers character-driven stories with a strong outer and inner arc, with the outer arc being particularly important to earning your seal of approval. Meaning, he doesn't seem, generally speaking, to be a big fan of straight-up lyrical pieces, unless there's also a strong story to go with it, although you definitely want some substance to an action piece too.
We want to see stories from any and all demographics of people and about any and all demographics of people. Women or men or transgender people or nonbinary or genderqueer people , Black people or Asian People or Caucasian people or First Nations people or any race or ethnicity, straight or gay or bisexual or ace or aro people, Muslim or Christian or Jewish or Hindi or agnostic or atheist people, disabled or abled or superabled people. We're sure there are many we've neglected to mention, but that was not meant as a slight if it's the case. The world is made of all kinds of people, and we want to hear from all of them.
AN INCOMPLETE LIST OF WHAT ARE WE NOT LOOKING FOR
No erotica (there's nothing wrong with erotica, but we don't want to publish it).
No torture (i.e. things that remind us of the Saw series, Human Centipede).
Serial killer stories aren't strictly forbidden, but we are very tired of them and they tend to be very easy to put down
Stories where a person tries to murder their spouse because of minor annoyances.  I don't know why this particular trope seems to be so common, but it has gotten very old and I don't really want to read any more of these.
CAN I SUBMIT TRANSLATIONS?
Yes!  As long as a translation of the story has not been published in the English language, we will treat it as a new story (which it is, in English).  In terms of contract and payment, the translator would be treated exactly as a co-author.  The original author must also consent to submission and publication.  Both the author and the translator would need to sign a contract.  The total pay would be split evenly between the author and the translator, paid directly to each.  Publication would be credited as "by <the author>, translated by <the translator>, and would credit the original publication venue and language.  If you are submitting a translation, we suggest you note this in the Story Notes box, as we will take this into account since expectations of pacing and other conventions may be different in different languages.
WHEN/HOW SHOULD I QUERY?
1. If you got a confirmation email, then we got your story. You can use the information there to check on the status at any time. You can check the status of the queue on the main submissions page, and see other people's responses when they report them on the 
Submission Grinder listing
.  Don't query to check the status. You should have all the information you need.
2. If you have some reason to think that we might not have received your story–i.e., no confirmation email, or you got some kind of error report–you can feel free to query, but we prefer you don't mention your story title. We set up the system so that we could try to judge without author name's attached. Do tell us what email address you submitted through, and we'll be able to confirm/deny that we have a submission from that email address   And if you do mention the title, we won't disqualify the story.  The recommended way to reach us is through 
the contact form on the Grinder,
.
WHAT ARE THE TERMS OF THE CONTRACT?
First Publication Rights in English exclusive for six months from publication on the website, which will expire if not exercised. (can make exclusivity exceptions for Best of the Year anthologies and special cases).
The stories will be published in two different formats by Diabolical Plots:
Included in an email newsletter sent to subscribers in the month prior to the official publication date.  (sign up for the newsletter here)
Posted on the Diabolical Plots website.
Ten cents/word, paid on publication. All rights will revert to author 2 years after contract is countersigned if publication rights aren't exercised. The author retains copyright throughout.
WOULD A STORY SOLD TO DIABOLICAL PLOTS BE A SFWA QUALIFYING SALE?
Yes!
HOW DO I SUBMIT?
Don't worry about standard manuscript format, as long as we can read it we'll read it.  The submission form uses a plain text box–if formatting like italics or bold are vital to understanding your story, feel free to use some notation to mark them, such as bracing text with _underscores_ for italics or *asterisks* for bold.  But if it's not vital to the understanding of the story, don't worry about it–we'll do an editing pass in the case of acceptance and can talk about formatting then.
IF I ALREADY HAVE A STORY PENDING PUBLICATION AT DIABOLICAL PLOTS, CAN I SUBMIT?
Yes!  And please do!  We obviously like your writing, so we certainly wouldn't want to discourage you from submitting more of it!
TRACK YOUR SUBMISSIONS
We have made a listing for Diabolical Plots on our tool The Submission Grinder which you can use to track your submissions or find out from anonymized user data what our response times are like. We encourage you to sign up for a free account for both your own use and to contribute your data for others to see our response times–you can see response time information from other users even without registering.  At this time this listing is the only source of submission response data for Diabolical Plots, so it's a great place to check if other people are getting responses.
Via: Diabolical Plots.
About the Author
Latest Posts
Stuart Conover is a father, husband, published author, blogger, geek, entrepreneur, horror fanatic, and runs a few websites including Horror Tree!