Taking Submissions: Clockwork Cairo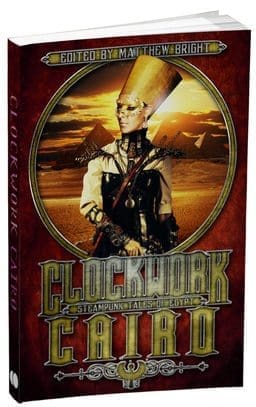 Deadline: December 31st, 2016
Payment: 3cents/word
Edited by Matthew Bright, Clockwork Cairo is Twopenny Press's inaugural anthology. An anthology of Egyptian-themed steampunk stories, it will take you an adventure from the steam-powered souks of Cairo, to the clockwork bazaars of Alexandria and the shadowy mysteries of the pyramids. The collection features a host of exciting authors, including Gail Carriger, Tee Morris & Pip Ballantine, George Mann, Nisi Shawl, Rod Duncan, E. Catherine Tobler, David Barnett, Tiffany Trent, Jonathan Green, with more to be announced.
Clockwork Cairo is currently open for submissions until December 31st.
We are seeking steampunk fiction themed around Egypt to fill the last two slots in the anthology. Pay rate is 3 cents per word, up to a limit of 7000 words, for first publication rights.
Notes on what we are looking for:
– Stories set in Egypt, or heavily associated enough to justify their inclusion in the theme; however, it is worth noting that due to the existing stories in the collection, we are pre-disposed towards specifically Egypt-set stories.
– Although we're aware that steampunk has its roots in the pastiching of colonial-era fiction, we are very keen to avoid narratives with an imperialist flavour to them, and we actively encourage stories with native viewpoints and characters. In other words: there are far more stories to tell than white explorers in exotic foreign lands.
– Avoid stories with clockwork mummies, with museums, and with incarnations of gods–not because we don't like them, but because we already have them.
Please submit (and feel free to query) to the editor via [email protected].
Via: Two Penny Books.
About the Author
Latest Posts
Stuart Conover is a father, husband, published author, blogger, geek, entrepreneur, horror fanatic, and runs a few websites including Horror Tree!