Taking Submissions: Changelings & Fairy Rings: An Anthology of Nature Spirits & Elemental Creatures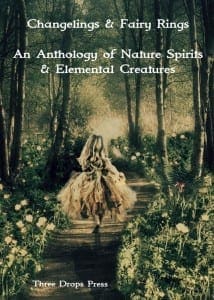 Deadline: June 1st, 2018
Payment: £3.50 (UK) / $5.00 (US)
At Three Drops Press, we've always enjoyed when a bit of pixie fiction or a gnome poem lands in the submissions inbox, so a themed anthology in honour of the Good Folk was inevitable. And the time has come to throw open the doors to Fairyland and ask for your best work on nature spirits and elemental creatures of all kinds – and there really is no shortage of these beings in myth, folklore, and literature around the world and down the centuries.
Submissions will close on 1 June 2018, and the tiny-sized anthology will be published as near to the Summer Solstice (northern hemisphere – 21 June 2018) as possible.
Please read the guidelines carefully, as this is a very special anthology:
Poems should fit nicely on a page measuring 10.795 cm x 17.463cm with 1.25 cm margins all around. Yes that's right: this one is a pocket-book. (We know some elves and fairies are human-sized, or bigger, but the editor has a weakness for tiny, cute things. It's probably why she had so many babies.)
Please submit 1-5 poems of 40 lines or under, or 1-3 micro-to-flash fictions of 500 words or less.
Send the poems / stories in the body of the email or in a Word document – please NO PDFs – to [email protected] with the subject line 'Fairy Rings – Genre – Your name' e.g. mine would be 'Fairy Rings – Poetry – Kate Garrett'
Previously published work is ok, but you must own the rights and let us know where it first appeared.
Please NO simultaneous submissions. This call is open for 6 weeks and we will take no longer than 6 weeks at the absolute longest to respond (usually much faster). Thank you for your patience.
Payment for contributors will be a flat £3.50 (UK) / $5.00 (US) – or equivalent in your currency – via PayPal (anywhere in the world, as long as you have PayPal) or bank transfer (UK only) paid upon publication.
Unfortunately because I am already paying contributors out of my own pocket, I can't provide free paperback copies. However, you will receive a PDF of the final anthology, and the opportunity to purchase up to 5 books at a 50% discount (plus postage if outside of the UK).
Again, submissions will close on Friday 1 June 2018.
This anthology will be edited by Kate Garrett.
Via: Three Drop Poetry.
About the Author
Latest Posts
Stuart Conover is a father, husband, published author, blogger, geek, entrepreneur, horror fanatic, and runs a few websites including Horror Tree!