Taking Submissions: Bleed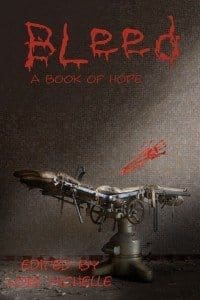 Deadline: June 30th 2013
Payment: Charity Anthology – Optional Contributor's Copy
No one should ever have to deal with cancer, especially a child. BLEED is a charity anthology where the profits will go to the Children's Cancer Fund. We are looking for allegorical horror stories where the monster represents cancer.
Don't forget, this is for all the little girls and boys who fight the good fight everyday.
Deadline: June 30, 2013
Target release date: September 2013 to coincide with Children's Cancer Month
Please send all submissions in a .doc or .rtf attachment to [email protected] with the subject line being Bleed/Story Title/Author (the attachment should be labeled the same way). All stories should be formatted 12 pt (any font is fine, although we do prefer sans serif). Also include a 50 word bio either in the email or attachment itself. Maximum word count: 10,000 words. We will be accepting reprints, but only a small amount of them, so make sure yours is excellent if it's been published in the past. Multiple submissions are fine.
Since this is a charity work, we cannot offer any payment, but the author will be given the choice of either receiving one contributor's copy or donating the book's cost to the Children's Cancer Fund.
Any other questions please email [email protected].
[via: Perpetual Publishing.]
About the Author
Latest Posts
Stuart Conover is a father, husband, published author, blogger, geek, entrepreneur, horror fanatic, and runs a few websites including Horror Tree!