Taking Submissions: Bizarro Bizarro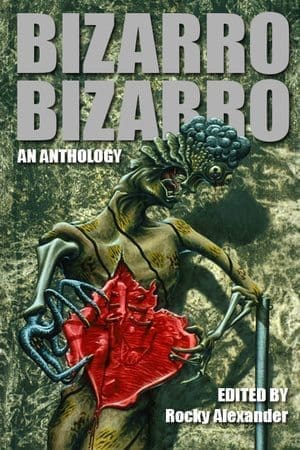 Deadline: October 1st 2013
Payment: Electronic copy of the book and $10 OR One paperback contributor's copy
Yup… it's a bizarro anthology… but what the heck is bizarro? To us, it's intellectual and poetic freedom. It's about exploring the limits of literature and creativity. It can be argued that many classics are bizarro: George Orwell's Animal Farm has talking animals that take over a farm, and Kafka's Metamorphosis features a suffering protagonist who has spontaneously become a cockroach. For more on this visit the bottom of our Submissions page.
If you're still unsure what bizarro is, we suggest checking out this article about the topic. Please don't use Wikipedia for your definition. In addition, you can peruse the library of books already published by Bizarro Pulp Press.
Here's the article by Mike Klein at Flavorwire.
The artwork for this anthology was provided by Alan M. Clark.
How to submit:
Format/Content:
Please send submissions to [email protected]
Your query must include a brief synopsis of the story (200 words maximum). We are doing this to help narrow down the non-relevant submissions.
Word count must be between 3500 and 7000 words. Please query for longer works, but use professional discretion in this matter.
Georgia font, 12 pt, double space
.Doc or .rtf files only
Labeling:
The first page of your document must have ONLY the title of the story.
Your biographical information, including name and word count, are included AT THE BOTTOM of the document. (we explain this strange request further down in this post)
Please refrain from using an Email Address that may give our editors a clue toward who you might be. We prefer receiving submissions blindly if we can help it.
Deadline:
August 1st-October 1st
Acceptances/rejections will not be mailed out until after the anthology has closed.
Payment:
You will have one of two options upon acceptance:
1. Electronic copy of the book and $10
2. One contributor's copy (paperback)
FAQ:
So… what's up with the weird rules about "labeling?"
To guarantee that the quality of the story stands above the author's name, we wish to do our best to remove any initial bias. Yes… we know it's professional to do that anyway, and yes, we know we can just scroll to the bottom of the document.
What if my story is accepted and I want to purchase discounted copies in addition to one of the payment options listed above?
Message us. The quantity you order will play a big factor in how we handle this decision.
Do I have to be a previously published author to be accepted in this anthology?
No…
Can my story have zombies in it?
……
Who's editing this thing?
You, aliens, two tarantulas, and Rocky Alexander.
Who is Rocky Alexander?
Rocky Alexander is an author and freelance editor whose work has been appearing in various publications since 1990. He lives in the woods in North Carolina with a bunch of creatures that make strange sounds when they're hungry, and when he isn't writing, he trains people how to beat up other people in a boxing ring.
[via: Bizarro Pulp Press.]
About the Author
Latest Posts
Stuart Conover is a father, husband, published author, blogger, geek, entrepreneur, horror fanatic, and runs a few websites including Horror Tree!