Taking Submissions: Betwixt Winter Issue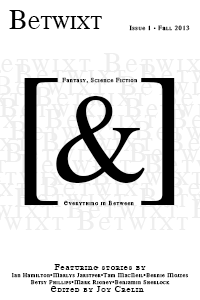 Deadline: November 30th 2013
Payment: We pay $0.02 per word up to $150
FICTION
Genres and Content: Betwixt publishes speculative fiction of all sorts—fantasy, science fiction, speculative horror, slipstream, weird fiction, steam/diesel/cyber/etc.punk, you name it. We particularly like stories that smash genre boundaries to smithereens, but we also love fresh takes on established genres and in-depth explorations of ultraspecific niches. Experiments in form and style are welcomed enthusiastically—but a straightforward narrative with tight, crisp language is just as beautiful. When it comes down to it, we want stories that will amaze us, astound us, provoke our thoughts, and boggle our minds.
Betwixt supports diversity in speculative fiction and welcomes stories by and about individuals of all ages, classes, disabilities, ethnicities, genders, nationalities, races, religions, and sexual orientations.
Please don't send multiple or simultaneous submissions, stories that have been published previously, or poetry. We are not seeking unsolicited nonfiction at this time.
Length: Stories of 4,000 to 7,000 words are ideal, but we will consider a range from 1,000 to 30,000 words.
Rights: Betwixt purchases first worldwide English-language serial, electronic, and print rights. Stories will be published on betwixtmagazine.com, in electronic and print-on-demand quarterly issues, and in electronic and print-on-demand yearly anthologies. We may also excerpt stories for promotional purposes. The author retains all other rights.
We do not publish unsolicited reprints, and we ask that stories we publish not appear anywhere else for three months after publication. For example, if a story is published in the January issue, we ask that it not appear elsewhere until April—although we would be delighted to make exceptions for extraordinary circumstances!
If you have questions about specific rights or contract terms, please feel free tocontact us at [email protected]. (Please don't send submissions to this address.)
Payment: We pay $0.02 per word up to $150, payable upon receipt of completed contract and author questionnaire.
Reading Periods: Betwixt is open to submissions during the following reading periods:
October 1–November 30
January 1–February 28
April 1–May 31
July 1–August 31
Submissions received at any other time will not be considered.
How to Submit: Please email submissions in .doc or .docx format to oursubmissions email address: [email protected]. Please do not send submissions to any other address. We do not accept paper submissions.
In the body of your email, please include a brief cover letter that mentions your name (and pseudonym, if applicable), the title of your story, and the story's approximate word count. We aren't sticklers when it comes to manuscript format, but please use some common sense regarding fonts, spacing, formatting, and the like. Readable is good. Fancy, quirky, and kickin' rad are not.
After submitting a story, you should receive an automated email confirming receipt of your submission. If you do not receive a confirmation within twenty-four hours, please email again.
Our response time is currently two weeks. If two weeks pass and you have not heard from us, please feel free to query regarding the status of your submission. However, please do not query if it has been less than two weeks. If your story is not accepted, please wait a week before submitting another.
ART
We are unable to commission original art at this time, but we do license existing art for covers. If interested in licensing your speculative art, please email a link to your portfolio to [email protected].
Source: Betwixt.
About the Author
Latest Posts
Stuart Conover is a father, husband, published author, blogger, geek, entrepreneur, horror fanatic, and runs a few websites including Horror Tree!