Taking Submissions: Best of British Science Fiction 2021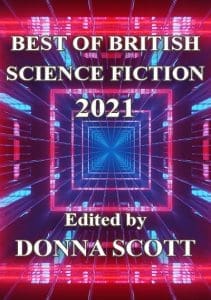 Deadline: January 15th, 2022
Payment: £50.00 plus a contributor's copy
Theme: Reprints of science fiction published in 2021
Note: Must live in UK or be a British ex-pat
Note: Reprints only
Submissions for Best of British SF 2021 are now open!
Series editor Donna Scott is seeking the very best short stories written by British authors that were first published during 2021. For our purposes, 'British' means authors who are resident in the UK or British ex-pats who currently live elsewhere.
Please bear in mind that this is a reprint market and we are not interested in original stories in this instance; nor do we wish to see self-published stories. Also, we are looking specifically for Science Fiction with this one; fantasy and other flavours of genre will not be considered.
There is no specific limit on a story's length, though anything over 10,000 words will be a tough sell.
Please follow standard manuscript formatting.
We are interested in seeing your very best work. Therefore, multiple submissions are not encouraged; if you really cannot decide, please submit no more than two stories.
This is a paying market, with successful authors receiving payment of 1p a word up to a maximum of £50.00 plus a contributor's copy of each edition of the book.
Via: Newcon Press.
About the Author
Latest Posts
Stuart Conover is a father, husband, published author, blogger, geek, entrepreneur, horror fanatic, and runs a few websites including Horror Tree!