Taking Submissions: Apologue of the Immortals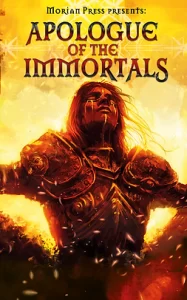 Deadline: November 30th, 2022
Payment: $.0075 per word (minimum $10 up to a maximum of $45) and a contibutor's copy
Theme: Fantasy, and he story must have a moral or lesson to it and involve Gods or immortals of some sort
We're currently accepting original submissions for our upcoming fantasy anthology!
Submission Period: September 1 to November 30, 2022
​
Genre: All fantasy! (dark fantasy, urban fantasy, epic fantasy, high fantasy, etc.)
Theme: Apologue of the Immortals
This means that the story must have a moral or lesson to it (Apologue) and have something to do with a being(s), creature(s), or god(s) that in some way have immortality or an immortal element.
Format/Style: Short Story or Poems
Length:
Short stories – minimum 1,000 words, maximum 6,000 words
Poems – any length
Eligibility: Any author is welcome to submit original, unpublished works. No previously published works please.
​
Submissions: No number limit on submissions but must be submitted via the submissions form below.
Terms/Rights:
Selections for inclusion to be made after submission timeframe ends unless otherwise notified. Upon your story or poem being accepted for inclusion in the anthology you will receive a contract to review and sign. Upon receipt of returned and signed contract, Morian Press will pay you a nominal fee (in USD) according to your submission type and manuscript length according to the pay schedule below. Upon payment to the author, Morian Press obtains the right to publish and promote the original work in this anthology only. Author retains non-exclusive rights, meaning, the author can publish and promote the submitted work elsewhere as well.
​
Payment for stories/poems (for accepted works):
$.0075 per word (minimum $10 up to a maximum of $45)

FREE author copy of the published anthology

Author spotlight on social media channels

Morian Press swag of the author's choosing (limitations apply)
When you're ready to submit your story or poem, use the form below and attach your manuscript.
​
Please don't hesitate to reach out via [email protected] with any questions!
​
Happy writing!
Via: Morian Press.
About the Author
Latest Posts
Stuart Conover is a father, husband, published author, blogger, geek, entrepreneur, horror fanatic, and runs a few websites including Horror Tree!