Taking Submissions: Anthology Of Bizarro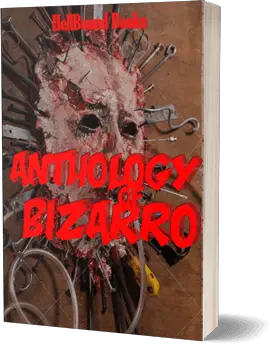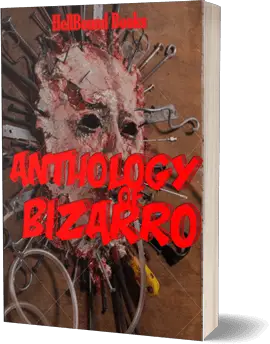 Deadline: October 31st, 2019
Payment: $10
Another first for HellBound Books – we are looking for the very best in bizarro short stories!
Thrill us, disgust us, have us squirming in our seats – heck, gross us out if ya dare! But, don't resort to gratuitous nastiness for its own sake, we are looking for a good, solid story and awesome characters along with our grossness!
We are delighted to announce that this groundbreaking anthology is to be compiled by the inimitable David Owain Hughes!
PLEASE read and adhere to our submission guidelines…
* Word format saved in .doc, or .docx
* 12 pt times new roman
* Double spaced
* Absolutely NO extra lines between paragraphs!
* 4K-10K word count (although we are incredibly flexible for awesome stories!)
* Write 'BIZARRO' along with your name and poem title in the header of your email
*The body of your submission email will be considered the cover letter.
* The submission documents are to be separated and Word (.doc or .docx) documents are to be attached to your submission email.
* Please include real name and pen name in submission

Make sure that you check your mss for grammar and punctuation, use our guidelines to help you:
DOWNLOAD YOUR HBB GUIDE TO GRAMMAR HERE (PDF)
* Send submissions to [email protected]
Deadline: OCTOBER 31st 2019 (publication December 2019)
Payment –$10 for first rights
Capped at 150K words in total
Via: Hellbound Books.
About the Author
Latest Posts
Stuart Conover is a father, husband, published author, blogger, geek, entrepreneur, horror fanatic, and runs a few websites including Horror Tree!