Taking Submissions: A Terrible Thing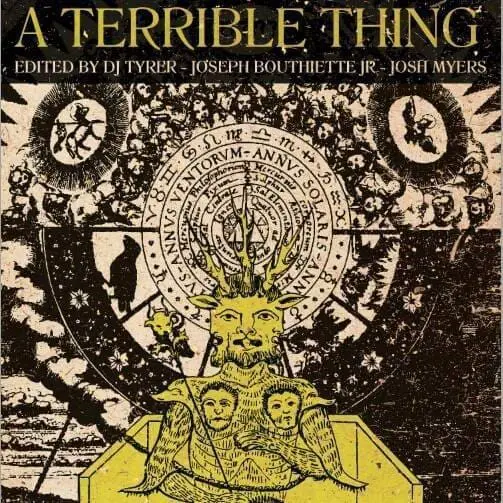 Deadline: March 31st, 2016
Payment: Contributor's Copy
See Guidelines and FAQ (Submissions) for general submission information.
Submissions are sought for a revised and expanded paperback release of The King In Yellow anthology. We are seeking stories between 2000 and 7000 words related to the Yellow Mythos in some manner (all genres and interpretations will be considered). Reprints from before 2015 will be considered. Multiple submissions are accepted. If sending simultaneous submissions, please do let us know if it is accepted elsewhere.
Longer and shorter works: We may be able to consider longer works (upto 10,000 words), but please query before submitting. If you have a number of shorter pieces, we may be able to consider them, but please query before submitting (we would need several shorter pieces totaling 2000 words or more to justifyinclusion).
Non-fiction: We are happy to consider 'fictional non-fiction', so if you have written an 'investigation' into the cult of the Yellow King or something similar, we would be happy to see. We may be able to include non-fiction discussing the King In Yellow, Yellow Mythos, etc, but please query before submitting.
Poetry: We are focusing on fiction for this anthology. As much of the poetry from the original anthology has been or will be appearing in the Yellow Leaves series (and hopefully, a collected volume of the pamphlets) they won't be appearing in the reprint and we would recommend poets to submit to the series or wait for the collected volume which may take additional poems. However, we will make an exception for very long poems (at least 100 lines). But, be aware, we will probably only be accepting one or two at most, so competition will be fierce!
Rights Required: We will be seeking one-time publication rights and six-months exclusivity. Reprints should not have been published in 2015 or 2016 and unpublished work should not be published elsewhere prior to six-months after publication of the anthology. Any exceptions will be purely at the publishers' discretion.
Payment: All contributors will receive a complimentary copy of the paperback upon publication.
Deadline: End March 2016.
Via: Atlantean Publishing.
About the Author
Latest Posts
Stuart Conover is a father, husband, published author, blogger, geek, entrepreneur, horror fanatic, and runs a few websites including Horror Tree!