Taking Submissions: A Fistful of Demons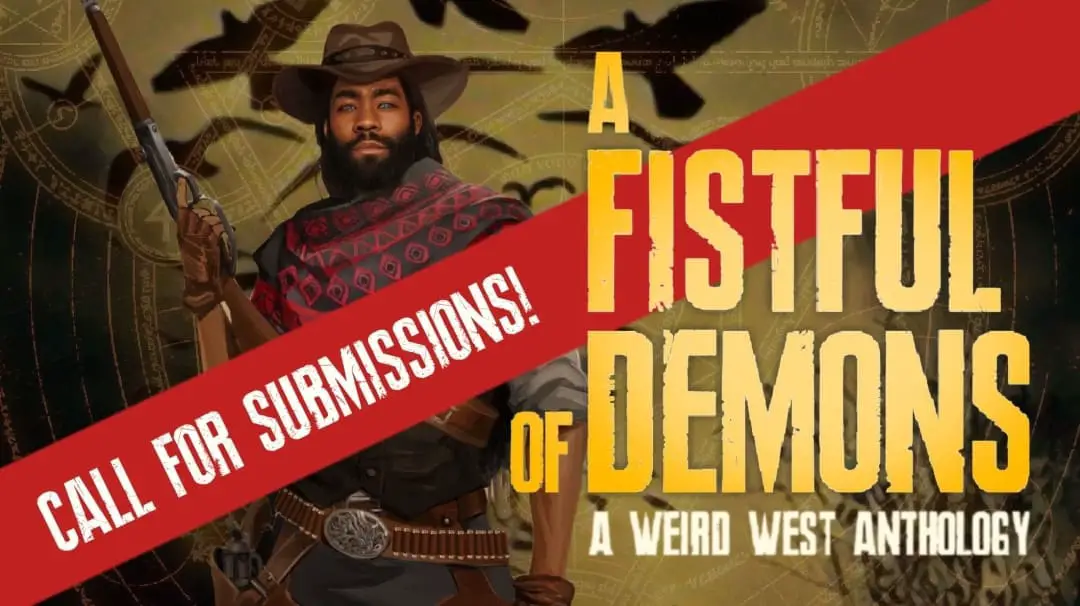 Deadline: January 31st, 2021
Payment: $25 per thousand words
Theme: Weird westerns set in the world of 'The Widow's Son' (a link to details below for those who haven't read it.
Malahas Press will be publishing a Weird West/Western Horror anthology of short fiction titled A Fistful of Demons from both debut and established authors in the Fall of 2022. We are based in the US, and welcome submissions from around the world.
If you're interested in submitting a short story to A Fistful of Demons, please read the following guidelines.

Note that there is no submission fee for this anthology. Zero, niltch, nada.
How to submit your story
All short story submissions should be made via email to [email protected]. This helps us keep track of the submissions we receive as efficiently as possible. Submit your story as an attachment to the email. DO NOT PASTE YOUR STORY INTO THE EMAIL BODY. Please include only your name and story title in the subject line, e.g. "BOB SMITH – THE DARK RIDER."
Please don't write to that address with general questions, as it won't reach the right people. If you have a question you can contact the editor.
What we're looking for
A Fistful of Demons is a Weird West/Western Horror short story anthology set in the aftermath of the novel The Widow's Son. For more details on the setting please read this. It is not necessary to have read the book to submit. Details on the world and setting are provided in the link above.
We are looking for stories about adventure in a Wild West beset by supernatural forces and fantastic steampunk technology. While we will accept stories with a romantic narrative, we will not accept erotica.
Please note that we do not consider novel excerpts, non-fiction, poetry, or anything with illustrations or photographs.
Word Count
We're looking for short stories around 6,000 words in length, give or take a couple thousand words. We may consider somewhat longer works, but they'll have to really blow us away.
How much we pay
We pay $25 per thousand words for stories we publish (e.g. $150 for a 6,000 word story). Contributors also receive two complimentary paperback copies of the anthology. There will be crowdfunding to raise money for the anthology, in which case payment may go as high as $100 per thousand words (well past pro rates).
Deadlines and when to submit
We are open now for short story submissions. The deadline for submissions is 31 January, 2022.
Rights
We ask for first serial rights on any story we publish. This means that the story should not have appeared anywhere else, either in print or online. (This includes publication on an author's own website.) When we publish a story, we ask for a brief period of exclusivity (usually six months), and the right to keep the story in print as part of the anthology. We don't ask for more rights than we need to produce our anthologies, or place any limits on what you can do with your story after the exclusivity period. Copyright always remains with the author.
File and manuscript format
Please submit your manuscript as per standard manuscript format. We only accept .docx and .doc file formats.
Multiple and simultaneous submission
It's fine to send us more than one story, but please don't send more than three.
We do understand if you want to submit to other short story publishers and magazines at the same time as submitting to us, and are happy to accept simultaneous submissions. However, please let us know if a story you've submitted to us has been accepted elsewhere!
Our response times
We aim to reply to all submissions within three weeks, although we will sometimes go slightly over this during busy periods or holidays.
If you're waiting to hear from us, please keep an eye on your junk mail folder, as our replies occasionally end up there. If you haven't heard back from us after a month or so, please check your junk mail folder again. If there's nothing there, please contact the editor.
I have questions…
Please read the FAQ. If you have further questions you can contact the editor here.
Via: Ryan Williamson.
About the Author
Latest Posts
Stuart Conover is a father, husband, published author, blogger, geek, entrepreneur, horror fanatic, and runs a few websites including Horror Tree!