Taking Submissions: 50 Shades of Decay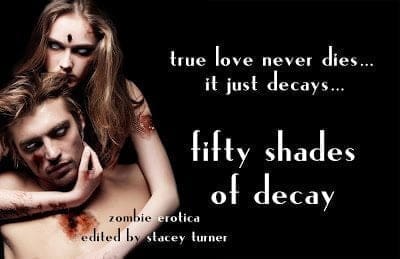 Deadline: December 31st 2012
Payment: Shared royalties.
That's right, folks! Our new anthology project is all about zombies. Well, zombies and erotica. What's sexy about the zombie apocalypse? You tell us!
What we're looking for is short fiction, 1k-2k words, featuring zombies and erotica in some form or fashion. I'll be taking 50 stories for the anthology. Subs may be submitted starting today. The deadline for submission is December 31st. The proposed date of release is February 14th, Valentine's Day.
Regardless of the subject matter, stories must be well written and interesting, with definite emphasis on originality. Please read our submission guidelines page and submit accordingly.
Payment will be shared royalties.
Where did this idea come from? KillerCon of course! It actually began as a joke, but so many people thought it interesting that we decided to run with it. I have to give credit for the title to Benjamin Kane Ethridge. There are already several authors from KillerCon sending stories, so join them and us in this project!
What are you waiting for? Get writing!
It is the last day of the Coffin Hop blog hop. You can visit the other coffin hoppers here. And you can still enter our contests as well. Remember, a comment on every blog post we put up during the Coffin Hop enters you in the drawing for a frame quality 8 x 10 of our No Place Like Home cover. Three or more comments enters you to win a frame quality 8 x 10 of Satan's Toybox: Demonic Dolls. And any comment at all enters you to win a print book of our newest release, Satan's Toybox: Terrifying Teddies.
Happy Halloween!!
Happy Hopping,
Stacey
[via: Angelic Knight Press.]
About the Author
Latest Posts
Stuart Conover is a father, husband, published author, blogger, geek, entrepreneur, horror fanatic, and runs a few websites including Horror Tree!