Death's Head Press Is Open To Novels, Novellas, And Collections!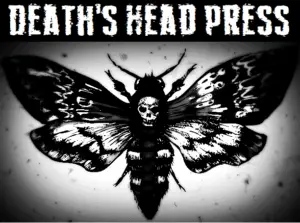 Deadline: March 31st, 2019
Payment: 50% royalties on all novels, novellas, and collections! Advances will be offered in some cases.
Death's Head Press is dedicated to publishing dark fiction in all its forms. Genres that fall into this category include Horror and all its sub-genres (gothic, splatterpunk, bizarro, etc.), Dark Erotica (think erotica with a supernatural or spooky twist), Dark Science Fiction (such as Alien or Event Horizon), and Dark Fantasy (like the works of Tanith Lee and Clive Barker). Crime and Adventure works may be considered, as long as they have a dark or twisted slant.
We are looking for new and seasoned authors! If you've never been published before but you've got a damn good tale to tell, then we want to hear from you. If you have published numerous short stories and novels, and are just looking for a different outlet for your work, then we definitely want to hear from you.
Death's Head Press does not care about–nor will they make any decisions based upon–your race, gender, sexual orientation, or political stance. We care about the stories you write, period! In fact, if you feel the need to mention your race, gender, sexual orientation, political stance, or any other information not pertinent to your story or writing experience, then we're going to assume you felt your writing alone was not strong enough to be accepted.
With that said, here is what we're looking for in novels, novellas, and collections:
Death's Head Press is seeking original novellas and novels 20,000 to 120,000 words in length that fit into the categories of dark fiction described above.
We want striking, well-crafted manuscripts with original themes. Our readers expect unconventional stories that surprise, entertain, and frighten them in new ways. We are not afraid of topics that are offensive, violent, or horrific.
Multiple submissions and simultaneous submissions are okay. Please, if your work gets accepted by another publisher prior to us accepting, let us know.
We also accept short story collections, though, we ask they be at least 40,000 words in length.
Let us stress, we want clean manuscripts! We understand that none will be perfect and error-free. However, if we receive a manuscript that has clearly not been proofread by the author and is riddled with grammatical mishaps, then it will be quickly deleted. As Sweet Mama Brown would say, "Ain't nobody got time for that!"
Manuscripts received outside of the indicated dates will not be read, unless we have given the author specific approval otherwise.
How to submit:
Email your submission to [email protected] with the Subject line reading either NOVEL, NOVELLA, or COLLECTION.
Consider the body of your email the cover letter. Give us a brief description of your work (3-6 sentences), list any previous published works, and tell us any relevant information about yourself.
Attach your entire manuscript to the email in .doc, .docx, or .rtf formats.
Use 12 pt font in Times New Roman.
Your author name, email address, book title, and word count should appear on the first page of your manuscript. All subsequent pages should have your name, title, and page number in the header.
Again, get your work as clean of grammatical errors as possible. We don't expect a perfect manuscript, but if it is riddled with one mistake after another, then we're unlikely to accept it.
We pay 50% royalties on all novels, novellas, and collections! Advances will be offered in some cases.
SCARE US!
Via: Death's Head Press.
About the Author
Latest Posts
Stuart Conover is a father, husband, published author, blogger, geek, entrepreneur, horror fanatic, and runs a few websites including Horror Tree!