Epeolatry Book Review: Down the Well by Joseph Blackhurst


Disclosure:
Our reviews may contain affiliate links. If you purchase something through the links in this article we may receive a small commission or referral fee. This happens without any additional cost to you.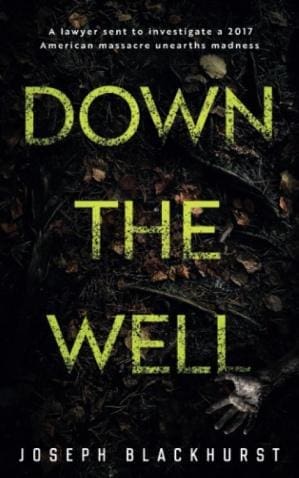 Title: Down the Well
Author: Joseph Blackhurst
Publisher: Independent
Genre: American Horror, Occult Fiction, Psychological Thriller
Release date: 11th June, 2023
Synopsis: When hunters stumble upon a genocide deep in rural Kentucky, investigators unearth a mysterious cache of canvases at the scene that seem to contain the secret to solving the case – but they're written in an unintelligible script that has the uncanny ability to drive people insane.
Immune to the sinister power of the canvases due to his color blindness, lawyer Joe Blackhurst is tasked with translating the messages and unravelling the truth behind the carnage. Joe begins to unmask the perplexing story behind the canvases creator: Richie Maltessouri, a down-on-his-luck young lawyer struggling under a mountain of debt.
Drawn deeper into an unsettling mystery, Joe finds his fate tangled with a cast of strange characters – including a handicapped painter with seemingly supernatural skills, a rude barista, and a camgirl. As he peels away the layers of Richie's enigmatic story, he finds himself flirting closer and closer with madness.
And when the trail of canvases leads him to an old, dark well, Joe knows that the answers that have been tormenting him lie deep at the bottom – if he can bring himself to face them…
Step into a gripping paranormal thriller that artfully weaves together edge-of-your-seat suspense, stunning prose, and a dash of disturbing horror. Down The Well is an unforgettable read that's perfect for fans of experimental novels from authors like Mark Z. Danielewski.
There was a certain period in my past where my intellectual side became enamoured of a certain kind of…avant garde, for lack of a better term. I found myself even more immersed in the industrial subculture, and that led to an even deeper fascination with art, especially performance art of a more visceral nature. 
Many of you probably know where I'm going, but I'll name-drop a few: The Voluptuous Horror of Karen Black, Lydia Lunch, Genitorturers, Laurie Anderson (of course), Survival Research Laboratories, and books like The Torture Garden, and others with the Re/Search label on them.
I'm not sure I could tell you exactly why Down the Well felt evocative of that era, but it felt right at home with that seemingly dark and depraved side of my intellect.
It was an intellectual read; one that messed with my head a bit since I read late at night. There was a moment where I thought, "I didn't realize this was nonfiction," but of course it wasn't. (Although, I'm still not entirely sure these events didn't really take place—that's how deft the story setup was.)
I was relieved when I got to certain part of the book where I could tell myself that certain horrifying occurrences hadn't taken place in real life.
One thing, though—I found myself wishing for illustrations interspersed throughout, like a demented version of the Griffin and Sabine books…a visual glimpse into the "canvases" that are featured in Down the Well.
And there were also a couple of places where I lost the arc of the story. I remember feeling a little confused about what was going on, or who was what character in the story. But that might have been the author's intent as the reader spirals down into madness right alongside the characters. Perhaps, though, I've gotten so used to being jaded at my age that I've forgotten what being discomfited and unsettled by a creative piece feels like. To have a work gnaw at the fringes of your brain in disturbingly delightful ways.
So, I know it's not helpful in terms of reviewing this book, but I'm still processing how I feel about it.
I'd recommend reading this during your peak energy times—whether that's late night or early morning, because it's definitely a deep dive of a novel.
The next time I decide to fall "down the well" myself, I'll read it over lunch, or when I'm settled in at a local coffee shop. (Translation: When I'm actually awake and cognizant, instead of drifting off to sleep at the incredibly late hour of nine p.m.)


/5
About the Author
Latest Posts