Disclosure:
Our reviews may contain affiliate links. If you purchase something through the links in this article we may receive a small commission or referral fee. This happens without any additional cost to you.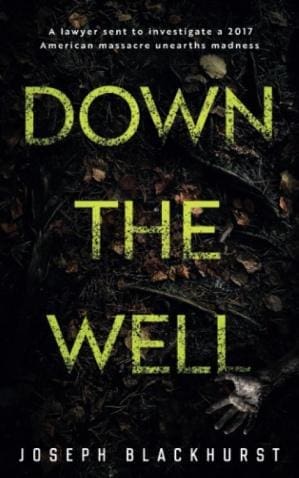 Title: Down the Well
Author: Joseph Blackhurst
Publisher: Independent
Genre: American Horror, Occult Fiction, Psychological Thriller
Release date: 11th June, 2023
Synopsis: When hunters stumble upon a genocide deep in rural Kentucky, investigators unearth a mysterious cache of canvases at the scene that seem to contain the secret to solving the case – but they're written in an unintelligible script that has the uncanny ability to drive people insane.
Immune to the sinister power of the canvases due to his color blindness, lawyer Joe Blackhurst is tasked with translating the messages and unravelling the truth behind the carnage. Joe begins to unmask the perplexing story behind the canvases creator: Richie Maltessouri, a down-on-his-luck young lawyer struggling under a mountain of debt.
Drawn deeper into an unsettling mystery, Joe finds his fate tangled with a cast of strange characters – including a handicapped painter with seemingly supernatural skills, a rude barista, and a camgirl. As he peels away the layers of Richie's enigmatic story, he finds himself flirting closer and closer with madness.
And when the trail of canvases leads him to an old, dark well, Joe knows that the answers that have been tormenting him lie deep at the bottom – if he can bring himself to face them…
Step into a gripping paranormal thriller that artfully weaves together edge-of-your-seat suspense, stunning prose, and a dash of disturbing horror. Down The Well is an unforgettable read that's perfect for fans of experimental novels from authors like Mark Z. Danielewski.