Epeolatry Book Review: You Know It's True by J.R. Hamantaschen


Disclosure:
Our reviews may contain affiliate links. If you purchase something through the links in this article we may receive a small commission or referral fee. This happens without any additional cost to you.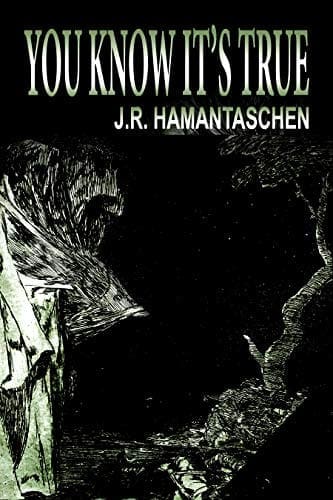 Title: You Know It's True
Author: J.R. Hamantaschen
Genre: Horror
Publisher: West Pigeon Press
Release Date: 6th Feb, 2021
Synopsis: Twelve Stories of Truly Dark Fiction
Acclaimed throughout the underground horror world and having come seemingly out of nowhere, J.R. Hamantaschen built a reputation based solely on the quality of his stories. He returns to the short story genre and finishes what he started with his last collection of horror fiction, containing some of his most innovative, unsettling, and uncompromising tales.
You Know It's True, is J.R. Hamantaschen's fourth collection of weird horror short fiction. I've wanted to check out Hamantaschen's work since an acquaintance brought his work to my attention a few months back. So, when offered the chance to review his newest collection, I jumped at the opportunity.
These stories are extremely heavy. Each tale deals with differing aspects of the existential dread haunting the human condition. Topics range from suicide and its effects on family, adult situation addiction and its relations to self-isolation, and violence against animals, children, and the elderly; most of this accompanied by an unusual twist that will leave your head spinning. This work is not for the faint of heart. Every aspect of this book is strange and intriguing, including the introduction, the copyright page, and the explanatory notes following each story.
Stand out stories were the first two of the collection: 'I Should Have Been a Pair of Ragged Claws / Scuttling Across the Floors of Silent Seas' and 'House Katz'. These tales both packed a real emotional gut punch, and I still find myself thinking of them days and weeks after reading.
The rest of the collection is well written, but for one reason or another, each of the remaining accounts just weren't for me. A couple were a touch too mundane, while others played too close to the barrier of what I feel comfortable reading (and shattered that barrier in some cases). This is not necessarily a terrible thing. I know many readers with much a stronger stomach than I for exploration of the taboo.
If you love the pessimism and nihilism of Thomas Ligotti but want something a touch more edgy, this is the book for you.
Overall I give this collection a 2.5 out of 5.
About the Author
Latest Posts
Joe lives with his wife and son in the Pacific Northwest where the Cascade Mountains meet the Salish Sea. He enjoys writing in the weird, horror, and fantasy genres.
Growing up he enjoyed R. L. Stine's Goosebumps books as well as classics like Dune, and Lord of the Rings. In college he discovered Stephen King, and later Mark Danielewski's House of Leaves and authors like Clive Barker and Laird Barron.
Joe's short story, 'Gustav Floats', was published in Dim Shores Presents Volume 2. In the spring of 2021 his story, 'The Pigeon Lied' comes out in Howls From Hell.
You can follow Joe on the following social media sites:
Twitter, Good Reads, Facebook, and Instagram!