WIHM 2022: An Interview With Editor Stacey Jaine McIntosh
In celebration of Women in Horror Month, we are continuing to highlight some of the amazing work that women have been doing compiling and editing magazines and story collections in the horror industry. We're continuing our Women Who Edit Interview series with Stacey Jaine McIntosh.
Could you introduce yourself, and tell us a little about you?
I'm Stacey and I live in Perth, Western Australia with my husband, 4 kids and our 2 cats.
A little more about me… well, I love Celtic mythology, faeries, the occult along with learning about my family history and I've been writing for over 20 years. Recently I became a USA TODAY Bestselling Author and I've been the owner/editor of Iron Faerie Publishing since 2018.
What is (or was) the most rewarding aspect of editing an anthology, magazine, or collection?
I think the most rewarding thing is being able to help authors make their stories shine (while getting to read them).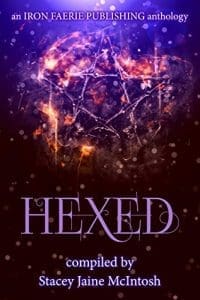 What is (or was) the worst aspect of editing an anthology, magazine, or collection?
The worst thing about editing is probably the eye strain. I tend to want to power through when I'm editing but it doesn't always happen.
In your opinion, what are the most important aspects of creating a collection or issue?
I think the most important thing to consider when putting together a collection is the cover. It's the first thing a potential reader sees. You want to make a good impression. 
Is there anything you'd like people to know about you or your work?
I can't think of anything off the top of my head, sorry. No. 
If we'd like to cyberstalk you, where can we find you online?
www.facebook.com/StaceyJaineMcintosh
www.instagram.com/morrighanfae
www.twitter.com/staceyjmcintosh 
www.facebook.com/ironfaeriepublishing 
Link(s) to anthology/magazine/etc. you'd like our readers to check out:
https://www.amazon.com/kindle-dbs/author?ref=dbs_G_A_C&asin=B00ATCKV0S
About the Author
Latest Posts
Holley Cornetto was born and raised in Alabama, but now lives in New Jersey where she writes dark fantasy, horror, and weird fiction. To date, her writing appears in over a dozen magazines and anthologies. To indulge her love of books and stories, she became a librarian. She is also a writer, because the only thing better than being surrounded by stories is to create them herself. In 2021, she earned an MFA in fiction writing from Lindenwood University. She is a proud member of the Horror Writers Association.