WIHM 2022: An Interview With Editor Sonora Taylor
In celebration of Women in Horror Month, we are continuing to highlight some of the amazing work that women have been doing compiling and editing magazines and anthologies in the horror industry. We're continuing our Women Who Edit Interview series with Sonora Taylor.
Could you introduce yourself, and tell us a little about you?
I'm Sonora Taylor. I've authored seven books, including Seeing Things, Little Paranoias: Stories, and Without Condition. I've also written, published, and sold several short stories. My most recent release is Someone to Share My Nightmares: Stories. Diet Riot: A Fatterpunk Anthology marks my first time being an anthology editor!
What is (or was) the most rewarding aspect of editing an anthology, magazine, or collection?
Reading so many authors for the first time! I loved the variety of voices we saw in the submissions to Diet Riot and, as many editors say, I was sorry to have to make rejections. I definitely want to see more from the authors I read.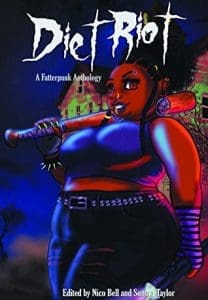 What is (or was) the worst aspect of editing an anthology, magazine, or collection?
Making rejections. When crafting the rejection email, I wrote the rejection email I myself would like to receive. But it still hurts to have to send it, because I know the feeling of seeing a submission call get back to you and wondering whether it will say yes or no inside, only to have it say no.
In your opinion, what are the most important aspects of creating a collection or issue?
The single most important aspect to me is diversity. To have an all-white and/or all (cis) male table of contents in this the year of our dark lord 2022 is unacceptable. Fortunately we're seeing less and less of that, and I would encourage anthology editors to not go to print if the TOC isn't diverse. If the submissions aren't diverse, put out another call. There are so many voices out there.
Is there anything you'd like people to know about you or your work?
I like to take where you think a story's going and twist it around here and there.
If we'd like to cyber stalk you, where can we find you online?
You can find out all about me on sonorataylor.com. I'm also active on Twitter: @sonorawrites. You can follow me on Instagram as well, but I mostly post food pictures there: @sonorataylor. 
Link(s) to anthology/magazine/etc. you'd like our readers to check out:
Diet Riot: A Fatterpunk Anthology is currently in production, but you can add it to your Goodreads shelf now: https://www.goodreads.com/book/show/59979983-diet-riot 
About the Author
Latest Posts
Holley Cornetto was born and raised in Alabama, but now lives in New Jersey where she writes dark fantasy, horror, and weird fiction. To date, her writing appears in over a dozen magazines and anthologies. To indulge her love of books and stories, she became a librarian. She is also a writer, because the only thing better than being surrounded by stories is to create them herself. In 2021, she earned an MFA in fiction writing from Lindenwood University. She is a proud member of the Horror Writers Association.