Epeolatry Book Review: Something Wicked This Way Comes by Ray Bradbury


Disclosure:
Our reviews may contain affiliate links. If you purchase something through the links in this article we may receive a small commission or referral fee. This happens without any additional cost to you.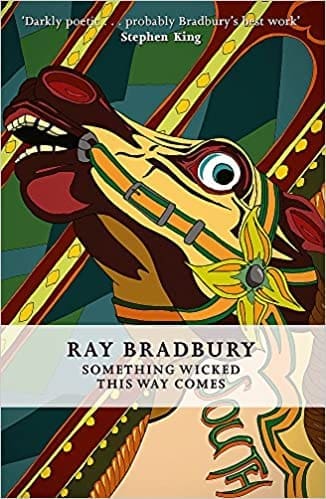 Title: Something Wicked This Way Comes
Author: Ray Bradbury
Genre: Horror Fantasy
Publisher: Gollancz
Release Date: 8th Oct, 2015 (1st published 1962)
Synopsis: It's the week before Hallowe'en, and Cooger and Dark's Pandemonium Shadow Show has come to Green Town, Illinois. The siren song of the calliope entices all with promises of youth regained and dreams fulfilled . . .
And as two boys trembling on the brink of manhood set out to explore the mysteries of the dark carnival's smoke, mazes and mirrors, they will also discover the true price of innermost wishes . . .
Ray Bradbury is an unusual author; he straddles multiple genres with ease and is as likely to be acclaimed for his SF novel Fahrenheit 451 as for his horror narrative Something Wicked This Way Comes. 
Stephen King said in Danse Macabre that 'the carnival is chaos'. I'm still recovering from the shock of reading Thomas Ligotti's short story "Gas Station Carnivals". Did these bizarre places really exist when I was a child? It is scarcely surprising that with their identification with the subversive, carnivals are a regular setting for horror stories. 
There's no better time of year to stage a horror story than Halloween, and no better time to stage the arrival of "Coogar and Dark's Pandemonium Shadow Show" as it rumbles into Green Town, Illinois upping the ante for protagonists Jim and Will. The lads are busy taking their first steps into adolescence and embracing independence as they turn fourteen. They're ready to tackle danger and evil unaided. The pair proves to be impressively adept at doing so without alerting their families to the odd happenings that are engulfing their small town ever since the carnival's arrival. 
This is quite an action-filled novel, but it is also an emotional profile in growing up. Like many horror stories, it fulfills a rite of passage function. 
There's nothing scarier than growing up and leaving childhood behind, something Bradbury understood since it was at precisely this age that he moved from small town Illinois to LA. Something Wicked This Way Comes is therefore partly autobiographical; it represents the snatching away of innocence by a cruel world where you either grow up and toughen up or get dragged under the surface forever. 
The library that features so heavily in the story is based upon the real Carnegie Library in Waukegan where Bradbury spent much of his youth. It all feels as real as yesterday. The creation of Green Town is an act of homage to his boyhood years. 
There's a pervasive sadness to this novel, a sense of childhood slipping away. Perhaps that sadness arose from a forced move during a vulnerable time for a lad. He moved away from everything he had known
Horror narratives that utilise the trauma of an author's real life offer something profound in addition to their action and characterisation; they tend to earn a well-deserved place in the horror pantheon. This was absolutely the case with Something Wicked This Way Comes. 
Review the reviewers! If you've read this novel, or just have some thoughts on any point made in this review, tag me at @JohnCAdamsSF on Twitter to share them.
Enjoy! 
About the Author
Latest Posts
They are a non-binary writer and reviewer of fantasy and horror fiction. They are a Contributing Editor with Albedo One Magazine and a reviewer with the British Fantasy Society and Schlock! Webzine. Their fantasy novel 'Dagmar of the Northlands' is out now on Kindle and Smashwords. They have had short fiction published in many anthologies from small presses and in a number of magazines, including The Horror Zine. They also hold a Postgraduate Certificate in Creative Writing from Newcastle University.